What is CSAT in Contact Centers: Unraveling the Buckle of Customer Satisfaction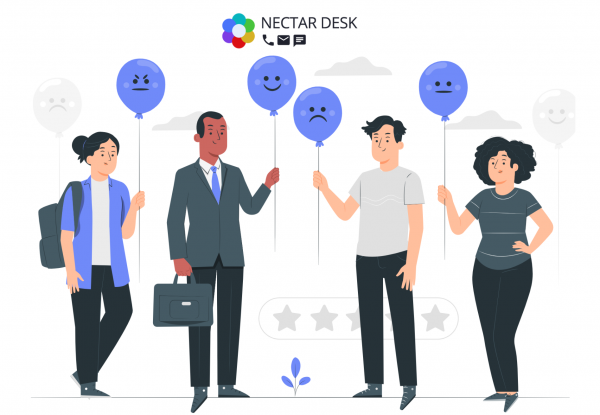 In the ever-evolving landscape of business, customer satisfaction stands as a cornerstone for success, and contact centers play a pivotal role in shaping these experiences. With customer expectations at an all-time high, companies must seize every opportunity to deliver exceptional service and build lasting relationships. Enter CSAT (Customer Satisfaction), a metric that has emerged as a vital compass for gauging the efficiency and effectiveness of contact centers. In this article, we embark on a journey into the heart of CSAT, unraveling its significance, exploring effective strategies to boost it, and uncovering a powerful ally in achieving customer service excellence – Nectar Desk, a comprehensive SaaS solution.
As businesses continue to prioritize customer-centric approaches, the importance of CSAT has soared to new heights. Understanding the pulse of customer satisfaction not only allows companies to align their operations with customer desires but also lays the groundwork for enhanced loyalty, retention, and brand advocacy. By delving deep into the realm of CSAT, we seek to equip businesses, particularly contact centers, with invaluable insights that can steer their paths toward a customer-centric paradigm. Moreover, we will explore the transformative capabilities of Nectar Desk, illuminating how its cutting-edge features and analytics empower contact centers to deliver remarkable experiences and exceed customer expectations. Let us embark on this enlightening voyage, navigating the intricacies of CSAT and discovering the key to fostering customer delight and business prosperity.
What is CSAT?
CSAT (Customer Satisfaction Score) is one of the key indicators used to assess the satisfaction of a user or customer with their experience of interacting with a product or service. A high level of satisfaction with their experience increases the likelihood of repeat purchases by such a customer, recommendations to friends, and building long-term loyalty to the company's brand.
The CSAT score is usually presented as a percentage or a numerical value and can range from 0% to 100%. A high CSAT score indicates that customers are satisfied with the company's offerings, while a low score indicates that there are issues that need to be addressed to improve the customer experience. By tracking CSAT, companies can identify areas for improvement, track customer sentiment over time, and make data-driven decisions to improve their products and services, ultimately leading to increased customer loyalty and retention.
In contact centers, CSAT is employed to assess the quality of customer support, agent performance, and the effectiveness of problem resolution.
Breaking Down CSAT
CSAT is typically assessed using a survey that customers complete after interacting with a company or using their products.
Here's how CSAT is broken down:
Customer Interaction:

CSAT surveys are usually sent after a customer has had an interaction with a company. This interaction could be a purchase, a support call, a chat with a representative, or any other engagement that involves customer-business communication.

Survey Question:

The CSAT survey typically consists of a single question: "How satisfied are you with your experience?" or a similar variant. Customers are asked to

rate their satisfaction

on a scale, often ranging from 1 to 5 or from 1 to 10.

Rating Scale:

The rating scale used in the CSAT survey can vary, but it is designed to capture the customer's level of satisfaction accurately. For example, a rating of 1 might represent "Very Dissatisfied," while a rating of 5 might represent "Very Satisfied."

Data Collection:

The CSAT data is collected and aggregated over a specific period, such as daily, weekly, or monthly. This data helps the company track customer satisfaction trends over time.

Calculation:

The CSAT score is calculated by averaging the individual satisfaction ratings provided by customers. For instance, if 100 customers responded to the survey and their ratings were added together, the total would be divided by 100 to get the average satisfaction score.

Interpretation:

The CSAT score ranges from 0% to 100%. A higher CSAT score indicates a higher level of customer satisfaction, while a lower score implies that customers are less satisfied.

Feedback Analysis

: Besides the numerical score, CSAT surveys often include an optional comments section where customers can provide additional feedback or explain their rating. Analyzing these comments helps businesses understand the reasons behind customer satisfaction or dissatisfaction and identify areas for improvement.

Benchmarking:

Companies may also compare their CSAT scores against industry benchmarks or their historical data to gauge their performance relative to others or to track improvements over time.
CSAT is a valuable tool for businesses to understand customer sentiment, identify areas for improvement, and enhance overall customer experience. It can be used in conjunction with other metrics like Net Promoter Score (NPS) and Customer Effort Score (CES) to gain a comprehensive understanding of customer satisfaction and loyalty.
How does CSAT Apply to the Call Center?
Considering the frequent interactions of call centers with customers, it is customary for them to employ CSAT surveys to assess the quality of their service. These surveys are primarily used to gather customer feedback on their satisfaction levels after a call concludes.
The survey is typically administered immediately after the call via phone or later through email. Alternatively, some more innovative approaches utilize SMS surveys to provide a quick and convenient experience for customers.
Another common application of CSAT surveys is to collect feedback after resolving a customer's case or ticket. Unlike the first scenario where the survey is conducted right after the call, here, the survey is sent once the customer's issue has been resolved. In this case, the customer rates their satisfaction with the handling of their inquiry from the first to the last interaction
CSAT proves to be highly suitable for call centers due to its adaptability. Managers can customize CSAT survey questions in various ways to identify specific areas that might lead to caller frustration. They can opt for general questions like "How satisfied are you with the help you received?" or more specific inquiries such as "How satisfied are you with your wait time during your call today?".
The Importance of CSAT in Contact Centers
Customer Satisfaction (CSAT) is of paramount importance in contact centers, and its importance cannot be overstated. Several good reasons emphasize the importance of CSAT for contact centers: 
 

Customer Loyalty and Retention:

Satisfied customers are more likely to become loyal customers and continue doing business with a company over time. High CSAT scores lead to

improved customer retention

, reducing customer churn and the need to constantly acquire new customers.

 

Word of Mouth and Referrals:

Satisfied customers tend to share positive experiences with their friends, family, and colleagues. Positive word-of-mouth and referrals can significantly boost a company's reputation and attract new customers organically.

 

Brand Reputation:

A high CSAT score contributes to a positive brand reputation. Happy customers are more likely to speak positively about the brand in public forums, online reviews, and social media, which can enhance a company's image and credibility.

 

Increased Revenue:

Satisfied customers are more likely to make repeat purchases and explore other products or services offered by the company. This can lead to increased revenue streams and business growth.

 

Cost Savings:

High CSAT scores can lead to cost savings in several ways. Satisfied customers are less likely to contact the contact center with complaints or issues, reducing the need for costly support interactions. Additionally, retaining existing customers is generally more cost-effective than acquiring new ones.

 

Improved Employee Morale:

Customer satisfaction is closely tied to the satisfaction and engagement of contact center employees. When customers are happy and appreciative, it positively impacts the morale of the support team, leading to better performance and reduced turnover.

 

Customer Insights:

CSAT surveys and feedback provide valuable insights into customer preferences, pain points, and expectations. This data can be used to improve products, services, and overall customer experience.

 

Competitive Advantage:

In today's competitive business landscape, customer experience has become a crucial differentiator. Companies that consistently deliver high CSAT scores have a competitive edge over their rivals.

 

Customer-Centric Approach:

Focusing on CSAT encourages a customer-centric approach within the organization. Contact center agents and employees become more attentive to customer needs and concerns, which fosters a culture of customer service excellence.

Continuous Improvement:

By monitoring and analyzing CSAT scores, contact centers can identify areas for improvement and take proactive measures to enhance their services and support, leading to a continuous cycle of improvement.
Measuring CSAT in Contact Centers: The Process
Measuring CSAT in contact centers is an incredibly important aspect of assessing customer satisfaction and delivering superior service. By implementing a well-defined process, companies can gain valuable insights into their customers' experiences and identify areas for improvement. This approach involves systematically collecting, analyzing, and interpreting customer feedback, allowing contact centers to continuously improve their performance and meet customer expectations.
To effectively measure CSAT in contact centers, businesses must follow a systematic approach:
#1 Establish a Baseline
Conducting an initial CSAT survey is not only about determining current satisfaction levels but also about understanding the specific pain points and areas where customers are experiencing satisfaction. This baseline data will allow you to identify the most critical aspects of your service that need immediate attention and improvement. What's more, involving different departments in the survey process will foster a collaborative approach to improving customer satisfaction, as it will allow different teams to gain valuable insights from customer feedback.
#2 Set Goals
When setting CSAT goals, make sure they are both realistic and ambitious to drive continuous improvement. Collaborate with cross-functional teams to align goals with broader business objectives, fostering a customer-centric culture within the organization. Additionally, set short- and long-term goals to effectively track progress, motivating your team to stay focused and on track to achieve the desired CSAT scores.
#3 Track Progress
Implement automated tracking mechanisms and real-time reporting tools to continuously monitor CSAT results. Analyzing customer feedback through various channels, such as phone calls, emails, and social media, will provide a complete picture of customer sentiment. Also, consider implementing customer feedback cycles where you contact dissatisfied customers to ensure that their concerns have been addressed, turning negative experiences into positive ones.
#4 Analyze the Results
When analyzing CSAT data, it's important to go beyond the numerical scores and delve into the qualitative feedback to understand the context behind customer satisfaction. By categorizing feedback by theme, you can identify recurring issues and prioritize improvement initiatives accordingly. Collaborate with your agents to get their insights on customer pain points, as they interact directly with them and can offer valuable suggestions on how to improve the customer experience.
#5 Implement Changes
When implementing changes to address customer concerns, prioritize those initiatives that have the greatest impact on CSAT results and align with your overall business goals. Develop a structured change implementation plan, ensuring that all team members are informed and properly trained to adapt to the new processes. Communicate regularly with customers and internal stakeholders about the progress of the change, demonstrating your company's willingness to listen to customer feedback and implement meaningful improvements.
#6 Continuously Improve
Building a culture of continuous improvement is essential to maintaining high levels of customer satisfaction. Encourage a culture of open feedback in the organization where employees feel empowered to suggest improvements and share customer feedback. Regularly evaluate performance and celebrate achievements, recognizing your team's efforts to improve the customer experience. By adopting a proactive and customer-centric approach, your contact center can achieve long-term success in delivering exceptional service and building strong customer relationships.
Nectar Desk: Enhancing Contact Center Performance with CSAT
Nectar Desk is a cloud-based contact center software that aims to improve contact center performance by focusing on customer satisfaction (CSAT).
Here are a few ways Nectar Desk can help improve CSAT and increase contact center efficiency:
Call Routing and Distribution: Efficient call routing ensures that callers are routed to the most appropriate agent, reducing wait times and improving first-call resolution rates. This feature helps to respond to customer queries quickly and efficiently, resulting in higher CSAT scores.
Interactive Voice Response (IVR): IVR systems allow customers to choose the reason they are calling, directing them to the right department or agent who can best meet their needs. It's this personalized approach like ours that reduces frustration and increases CSAT.
Real-time Monitoring and Reporting: Nectar Desk provides its users with real-time monitoring and reporting features that allow managers to track their agents' performance, call queues, and customer interactions. With instant access to data, managers can identify and resolve issues with just a few clicks, resulting in improved CSAT.
Call Recording and Quality Assurance: Features like call recording allow managers to review interactions between agents and customers. Quality assurance processes can be implemented, ensuring that agents follow best practices and provide you with excellent customer service, which will have a positive impact on CSAT.
Automated Workflows and Integration with CRM: Nectar Desk's automation capabilities simplify processes, reduce manual errors, and allow agents to focus on delivering better customer service. Integration with customer relationship management (CRM) systems provides agents with access to relevant customer information, enabling personalized interactions.
By focusing on improving CSAT, Nectar Desk helps contact centers deliver exceptional customer experiences. Satisfied customers are more likely to become loyal brand advocates, leading to increased customer retention and positive word-of-mouth recommendations.
FAQs
What is the meaning of customer satisfaction?
Customer satisfaction, also known as CSAT, refers to a measure that indicates whether a customer perceives a specific product, transaction, or interaction to be satisfactory. Typically, this survey is administered immediately after a significant transaction or interaction, or after the resolution of a customer support ticket. A positive response from the customer in the CSAT survey suggests that they are content and pleased with their experience.
What are the 3 C's of customer satisfaction?
The 3 C's of customer satisfaction are consistency, consistency, and consistency. This principle serves as a reminder to businesses that when conducting surveys to calculate their customer satisfaction scores (CSAT scores), they must do so regularly and on a timely basis. Only by adhering to this regular cadence can they effectively gauge the overall level of customer satisfaction within the company.
Takeaways
In conclusion, the importance of customer satisfaction scores (CSAT) in contact centers cannot be underestimated. As companies strive to adopt customer-centric approaches, CSAT becomes a vital compass for measuring the effectiveness and efficiency of contact center operations. Understanding the pulse of customer satisfaction enables companies to align their operations with customer desires, laying the foundation for increased loyalty, customer retention, and brand promotion.
CSAT surveys play a crucial role in assessing customer interactions and experiences, allowing companies to identify areas for improvement and make data-driven decisions. Implementing a systematic approach to CSAT measurement in contact centers involves establishing a baseline, setting realistic goals, tracking progress, analyzing results, implementing changes, and creating a culture of continuous improvement.
Nectar Desk, a comprehensive SaaS solution, becomes a powerful ally in achieving customer service excellence. By offering features such as call routing and distribution, IVR, real-time monitoring and reporting, call recording, and CRM integration, Nectar Desk increases contact center efficiency and empowers agents to deliver superior experiences that ultimately lead to higher CSAT scores. Let's do it together!