Nectar Desk + Salesforce
Best Phone System and Call Center Software for Salesforce CRM
Nectar Desk is a reliable and up-to-date SaaS solution for handling inbound and outbound calls with a set of useful features for reporting and analytics. We deliver comprehensive call center software that can be set up in minutes and will be a great integration to your Salesforce account.
The integration takes only a few clicks and provides you with an avalanche of new possibilities to improve your customer service and outcomes. Scroll down and learn more about how to take your call center to the next level together with Nectar Desk and Salesforce integration.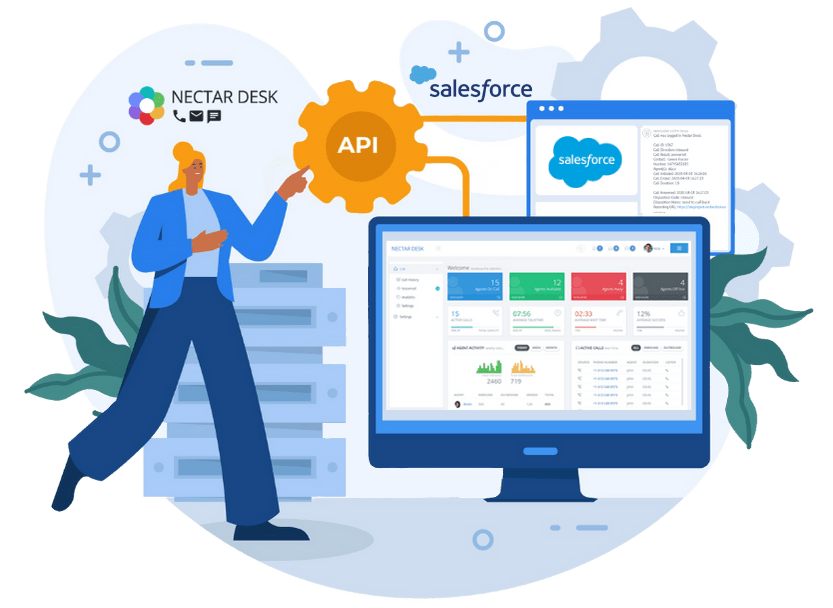 Full contact center functionality inside Salesforce.
Salesforce is great CRM software that allows you to reduce busy work, continuously optimize project schedule and budget, and make decisions based on real-time data. This application provides users with features to manage customer accounts, track sales leads, conduct and monitor marketing campaigns and provide service post-sale with ease.
Thanks to the integration with Nectar Desk, the Salesforce users boost their work productivity and perform much more efficiently.
Make Calls and Send Text Messages Directly From your Salesforce Account
Nectar Desk and Salesforce integration will crucially simplify your working process. You will be able to make calls to your customers worldwide directly from your Salesforce account with the help of the Nectar Desk Click-to-Call Extension. It is extremely convenient as you do not need to switch over numerous windows or applications.
All you need to do to make a call is to press the button near the contact's phone number and our system will start dialing him automatically. There is no point in wasting your time on a monkey job.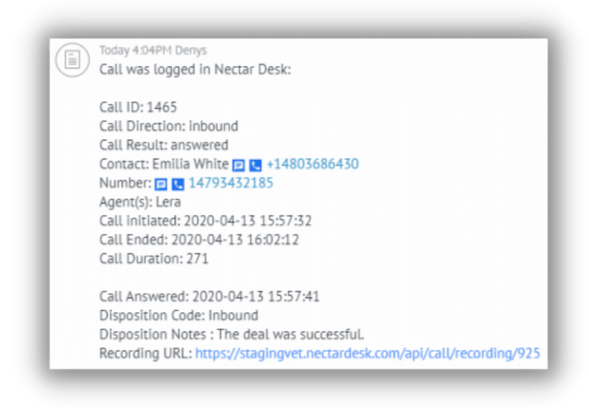 Automatically Log Your Calls and SMS Into Salesforce in a Few Seconds
Due to Nectar Desk integration with Salesforce, you will be able to automatically log your calls into Salesforce as a note in a few seconds. Then it allows to have access to call logs to see the call direction, result, contact phone number, your number in Nectar Desk account, the agent who was responsible for the call, time and date when the call was initiated, its duration, and call recording URL.
You can also automatically log each SMS into Salesforce as a note right after the text message was sent. After SMS was logged in Nectar Desk, it becomes possible to review its direction, the message, the agent who handled it, the date, and the number.
Integrate Your Accounts With a Consumer Key
Nectar Desk takes care of your convenience together with Salesforce. Both platforms are extremely easy to use and can be integrated with a few clicks. You do not need to spend a lot of time on downloading numerous applications. Everything you need is previously created accounts in Nectar Desk and Salesforce systems. It takes a few minutes to integrate your accounts with the help of API (consumer key). Moreover, you can contact our friendly support team to get help at each stage of your way to make the most of two amazing platforms.
Integrate Nectar Desk with Salesforce Right Now
Nectar Desk tries hard to be the best software for its customers who are using Salesforce and is proud to present to you our common integration!
Integration of Salesforce and Nectar Desk will give users an opportunity to automatically log every call and SMS into the CRM as a note right after the call was initiated or the text message was sent. There is also a great option to display caller information retrieved on Salesforce from incoming calls. You can Add "Create Contact", "Create Deal", "Add Deal Note" buttons on the dial pad which creates contacts in Salesforce directly from Nectar Desk.
Ready to install?
Watch the video and find out how to integrate your Salesforce with the Nectar Desk account.
Get this integration and 50+ features for just $50 per month!
Learn more about the Nectar Desk Pricing here.