WhatsApp Integration
The world's most popular messenger app built-in to Nectar Desk.
Thanks to Nectar Desk Integration with WhatsApp, you can integrate your business WhatsApp account and handle your conversations directly from the Nectar Desk account with the possibility to have calling, SMS, email, and other functionality. There is no need for using numerous channels. We provide the best tools for our clients just at hand.
Scroll down and find out how to make the most of modern technology with Nectar Desk Call Center Software.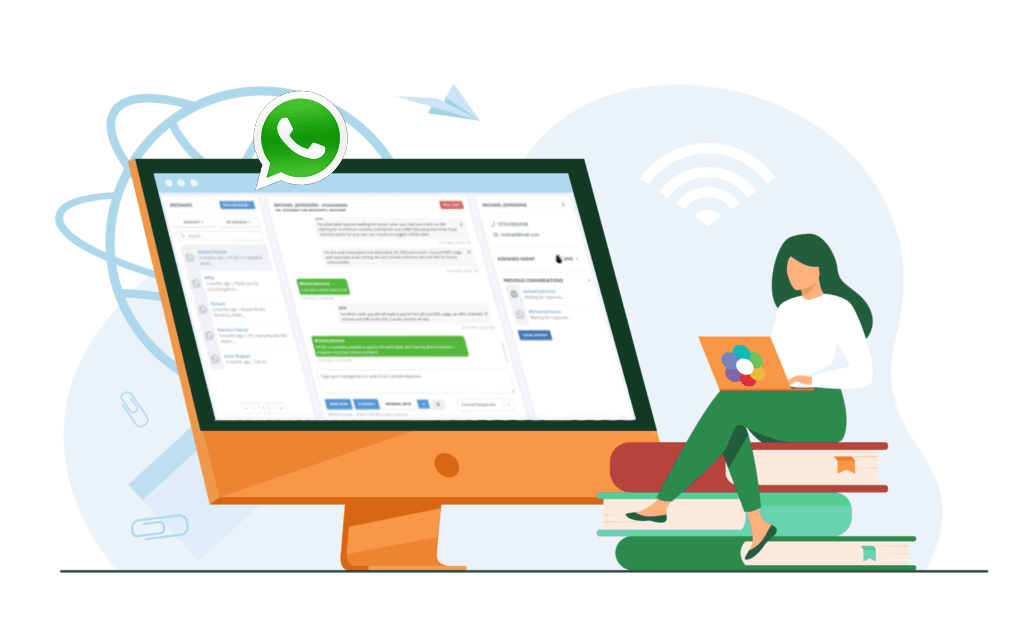 Add new possibilities to your Nectar Desk account due to our integration with
Nectar Desk is always here for you in order to help provide impeccable customer support and deliver important notifications to your clients. Having integrated your WhatsApp Business account, you will be able to send and respond to WhatsApp messages with a few clicks directly from your Nectar Desk account. We can support even multiple WhatsApp numbers allowing you to keep in touch with your clients directly from one single platform. There are also options to send and receive images, files (e.g. PDFs), locations, videos, weblinks, or quick replies on WhatsApp.
The WhatsApp platform is a great way to send promotions, offers, and campaigns at a scale where open rates are 95% and response rates are 32%, far greater than emails. Moreover, Nectar Desk offers you to integrate your account and empower your call center without any extra charging.
What do Nectar Desk users get after the integration to WhatsApp?
All Nectar Desk users are provided with a whole set of great features for calling, texting, emailing, live chat, and other cool functionality to help stay in touch with clients and grow sales.
By connecting WhatsApp to Nectar Desk, they unlock much more numerous messenger tools and automations and receive 24/7 phone call, live chat, and email support.
Using these two up-to-date platforms, you can significantly increase the outcomes of your call center.
It is high time to boost your business with Nectar Desk & WhatsApp integration.
Billions of people use WhatsApp every day to connect with friends and family.
With our WhatsApp
Business solution
, you will easily reach 2 billion users all over the world.

Simply create the account with Nectar Desk and connect to your users with our software globally!
Keep the conversation going with tools like automatic messages, WhatsApp templates, and internal notes.
How to connect WhatsApp to your Nectar Desk account?
Our WhatsApp integration is built-in and designed by the Nectar Desk team.
To connect the Business WhatsApp application to your account, please follow the instructions.
You can try out the Nectar Desk features and integrations for free by filling in the form below. It takes only a few clicks to contact our team. No Credit Card Required.
Other Great Products by Nectar Desk 
Check out more tools for boosting your call center outcomes.