How AI Helps Call Centers Reduced Costs and Improve Efficiency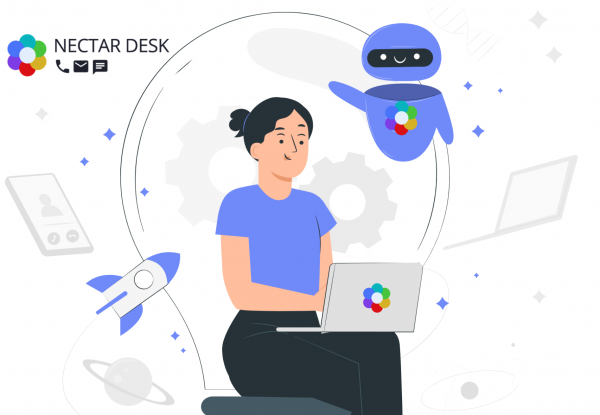 Welcome to the exciting world of modern technology, where Artificial Intelligence (AI) is reshaping the landscape of customer service. In this digital age, AI is rapidly becoming an indispensable tool, driving efficiency, and cutting operational costs across various industries. Today, we embark on a journey to explore the remarkable ways AI is revolutionizing call centers, making customer interactions smoother, and saving companies both time and money.
AI's transformative capabilities are especially pronounced in call centers, where it can seamlessly automate routine tasks that were traditionally handled by human operators. Picture a world where AI understands and responds to voice commands, effortlessly resolves straightforward customer queries, and enhances the overall quality of service. In this blog, we will delve into the myriad benefits AI brings to customer service, unravel the cost-cutting strategies that AI implementation offers, and shed light on how chatbots are elevating customer interactions to new heights.
So, fasten your seatbelts and get ready to discover how AI is not just a technological marvel but a game-changer for call centers, driving efficiency, reducing costs, and creating superior customer experiences.
What is Artificial Intelligence(AI)?
Artificial Intelligence (AI) is a branch of computer science that creates programs and systems that can perform mental tasks such as pattern recognition, speech, and decision-making. Instead of simply following predictable commands, AI can learn from the data it collects and use this information to draw conclusions and solve complex problems.
One of the main features of artificial intelligence is its ability to machine learning. This means that AI programs can self-optimize and improve their performance over time. They use algorithms that can analyze large amounts of data, recognize patterns, and make predictions based on this knowledge.
Another important aspect of AI is the ability to automate complex tasks. For example, AI can create and improve chatbots that can communicate with customers, provide information, and solve problems. This allows companies to reduce their personnel costs and improve the quality of customer service.
In general, artificial intelligence opens up a lot of opportunities for automation and improvement in various areas of business. It can increase productivity, reduce costs, and improve the quality of work. With the development of artificial intelligence, we can expect to see more efficient and intelligent use of technology in all aspects of our lives in the future.
Benefits of AI in Customer Service
AI is bringing many changes to the customer experience. It helps answer questions, solve problems and has many useful functions. AI simplifies work and helps to bring it to a whole new level.
Now let's take a closer look at the benefits of AI in customer service.
AI processes huge amounts of data
All companies face the problem of large amounts of data. AI is the solution to this problem. It is a big step forward in customer service.
AI technology covers all areas and industries. It transforms the service industry into an efficient, cost-effective, and productive environment.
Reduced customer service time
Processing customer requests is not an easy task. When a company faces an increase in customer requests, it needs to increase the number of agents to cope with the growing customer traffic. Agents need to respond to each request quickly and promptly and respond to the customer effectively. This also affects the quality of service.
AI copes with request processing much faster. The customer will choose the fastest option to respond to his request. It's better to spend 5 minutes on the phone than to wait 20 minutes for an agent to be free and answer.
Personalization is getting better thanks to artificial intelligence
One of the biggest challenges in customer service is trying to meet increasingly high standards of customer satisfaction. Even when you do a great job, it may not be enough.
Personalization is becoming a better solution thanks to AI.
It can be a daunting task. How do you know what your customer needs? How do you know what customers want and what their expectations are?  With artificial intelligence in customer service, you can identify your customers' expectations and needs better than ever before
Provide fast support
Today, most customer support programs are focused on providing reactive support, meaning they only respond to customers when they have questions or problems. However, the ideal approach is to solve a customer's problem before it arises. AI can play a significant role in providing proactive support by helping to identify and resolve issues before customers even ask.
With AI you can:
Analyze the history of previous discussions and interactions to identify the cause of the problem.
Recognize patterns and regularities in customer requests, regardless of which channels they use.
Automatically prioritize issues based on their urgency and the severity of the customer's problem.
Respond quickly to messages when a customer expresses dissatisfaction or encounters a problem.
With innovations in artificial intelligence, you can not only provide fast support but also automatically identify opportunities for optimization and recommend changes to processes and procedures that will help to better coordinate the work of companies.
Enhanced Customer Interactions Through Chatbots
Over the past few years, chatbots have become increasingly popular due to their high efficiency in increasing customer engagement and service quality. It is a powerful tool that provides businesses with an easy and cost-effective way to interact with customers that is fast and efficient.
Chatbots are also useful for collecting customer feedback, which helps businesses better understand their customers and find customized solutions to their needs. This is valuable information that can be used to improve operational efficiency, enhance user experience, and increase customer satisfaction over time.
Here are the benefits of using chatbots to interact with customers in business:
Increased productivity
Using AI chatbots allows you to automate routine tasks by providing instant answers to common customer questions. This frees up people to solve more complex problems and can reduce the need for a large customer support team.
Availability around the clock
Chatbots are ready to support customers around the clock, providing reliable access to answer their questions regardless of time or location. This improves the overall customer experience as users can get help at any time.
Consistency
Chatbots provide consistent responses, ensuring that all customers receive the same and accurate information. This helps to maintain brand consistency and ensures that customers have the same experience across different interactions.
Data Analytics
AI chatbots allow you to collect and analyze data about customer interactions, which provides useful information about customer preferences, common problems, and areas for improvement. This data can be used by companies to improve products, services, and customer service strategies.
Nectar Desk also has a beautiful assistant for your business. Using the Nectar Desk chatbot, you can significantly improve communication with customers, provide them with fast and efficient support, and automate many routine tasks, which will help optimize your workflow and make customer service even more efficient.
Cost Reduction Benefits of AI Implementation
Implementing AI in your call center can significantly reduce costs and increase overall efficiency. One of the most visible ways AI can achieve these cost-saving benefits is through automation. AI-powered chatbots and virtual assistants can handle a high volume of routine customer inquiries, thereby reducing the need for human agents who spend time on repetitive tasks. This not only reduces labor costs but also provides faster response times, increasing customer satisfaction.
Furthermore, artificial intelligence can provide valuable information. By analyzing customer interactions, AI can identify patterns, trends, and customer preferences, allowing your business to tailor its services and products more effectively. This data-driven approach can lead to better decision-making, more targeted marketing campaigns, and ultimately increased profits, all while saving the costs associated with assumptions.
AI can also improve human resources management. Predictive analytics can help optimize staffing levels by ensuring that you have the right number of agents to handle call volumes, preventing over- or under-staffing, which can be a significant cost driver.
Another aspect of savings is quality assurance. Artificial intelligence can track and evaluate calls, ensuring compliance with company policies and rules. This reduces the need for manual monitoring and can prevent costly legal and compliance issues.
AI can also help with call routing and prioritization. Calls can be routed to the most appropriate agents based on their experience and workload, minimizing the time customers spend on hold and improving first-call resolution rates.
Thus, integrating artificial intelligence into your call center is an effective cost-cutting strategy. It automates routine tasks, optimizes staffing, provides data-driven analytics, enhances service quality, and improves call routing.
These benefits not only reduce operating costs but also improve the customer experience, making it a worthwhile investment for companies looking to remain competitive and financially efficient.
Best Practices for Implementing AI in Call Centers
Improving customer service and reducing costs are the tasks that are becoming so important for modern call centers. In this context, implementing artificial intelligence becomes an important initiative. Let's take a look at the best practices and strategies that can help you achieve these goals while maintaining high customer service quality and optimizing costs in call centers.
To properly utilize AI, call centers should:
Identify specific metrics and key outcomes expected from AI to ensure the right tools are selected and success is measured. Tracking key performance indicators for an AI call center is vital.
Choose solutions that naturally integrate with existing systems to reduce complexity and improve workflows.
Gain agent support through proper change management and training on new AI-based tools for a smooth implementation.
Continuously monitor key performance indicators and improve solutions as AI systems evolve to maximize your return on investment.
The call center space will continue its rapid technological evolution. AI-based tools have begun to transform legacy processes, catapulting customer service into a new era of speed, personalization, and consistency.
FAQs About AI in Call Centers
Can AI replace call center agents?
While AI can automate some of the customer services, the empathy, problem-solving, and counseling skills of human agents remain indispensable. AI complements agents, not replaces them.
How does AI improve the customer experience?
AI allows call centers to analyze customers, route them faster, reduce hold times, and offer real-time responses to agents. This personalizes and improves every interaction.
How can AI increase agent engagement?
By automating repetitive tasks and providing agents with real-time instructions, AI reduces agent fatigue. This allows them to focus on more complex customer needs.
Conclusion
AI is transforming call centers by reducing costs and increasing efficiency. It streamlines data processing, speeds up response times, improves personalization, and offers proactive support. Chatbots improve customer experience, increase productivity, and maintain consistency. Data analytics based on artificial intelligence facilitates informed decision-making.
In the financial sector, AI automates routine tasks, optimizes staff performance, and improves quality control. It also improves call routing and prioritization, minimizing waiting times. Artificial intelligence is a strategic investment for call centers that improve speed, personalization, and consistency while delivering cost savings.