How to Improve First Call Resolution Rates with Nectar Desk?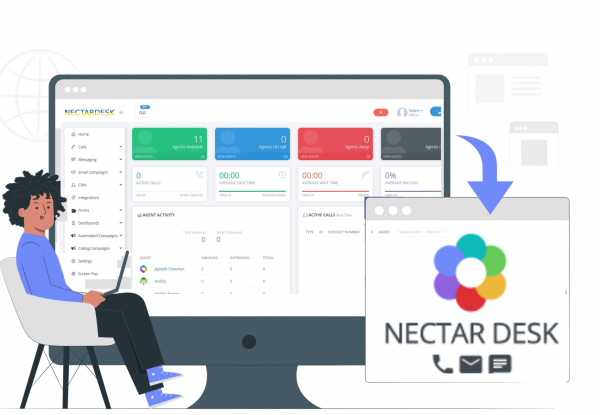 In the customer service industry, achieving a high first-call resolution rate (FCR) is a primary goal. It's the foundation of customer satisfaction, efficiency, and profitability. Luckily, with the advent of advanced communication tools and technologies, it's easier than ever to achieve stellar FCRs. In this article, we'll dive deeper into the world of improving FCR by focusing on how Nectar Desk, a state-of-the-art communication platform, can help you improve your first call experience.
What is the First Call Resolution?
First call resolution (FCR) is when customer service representatives correctly address a caller's needs on the first try. The customer will not need to call back to get a response after that. Customer relationship management includes FCR (CRM).
A typical call center and contact center performance metric is the average agent call time, which measures how much time an agent spends on each call. As a rule, a lower average talk time is better. However, low average talk time values and low FCR indicate that customer calls are not being answered quickly.
Call center managers closely monitor customer follow-up calls. Follow-up calls reflect customer dissatisfaction, increase the number of calls, and require more customer service representatives. As long as the resolution rate of the first call also increases, the call center manager will agree to an increase in talk time.
Finally, first-call and first-contact resolution rates are similar. First-contact rates apply to all channels of communication with the help desk or service desk, not just phone calls, including chats, text messages, emails, social media, etc.
Why is FCR Important?
FCR is a measure of customer experience (CX) that provides insight into how to improve a company's CX strategy. It also drives other customer service-related metrics such as customer satisfaction (CSAT), customer effort, customer engagement, and average spending.
One of the main reasons why FCR is important is that it plays a crucial role in customer satisfaction. When customers contact a company with a problem or question, they value a quick and efficient resolution. Being able to solve their problems the first time makes them feel valued, understood and cared for. This paves the way for increased loyalty, positive word-of-mouth recommendations, and a stronger customer-company relationship.
First-call resolution also helps to reduce costs for businesses. By promptly resolving problems during the first contact, companies can save valuable resources, time, and staffing costs. When customer issues are effectively resolved, there is less need for follow-up contacts, minimizing overall customer service costs. High FCR rates reduce the likelihood that customer complaints will be escalated to higher levels of support, resulting in further cost savings.
Operational efficiency is another area where FCR plays an important role. Achieving high FCR rates streamlines workflows and reduces the number of unnecessary escalations. By solving problems during the first contact, companies can optimize labor allocation. Agents can quickly handle other incoming requests, resulting in fewer calls, shorter wait times, and increased overall productivity.
FCR also makes a significant contribution to customer retention. Customers who receive quick and satisfactory problem resolution are more likely to remain loyal. Conversely, unresolved issues or multiple contacts required to resolve a single request can lead to frustration and potential customer churn. High FCR rates help build long-term relationships with customers by effectively responding to their needs and concerns.
First-call resolution directly affects the company's reputation. Positive experience of effective problem solving encourages customers to share their satisfaction with others, increasing brand trust. As a result, the company can attract new customers and strengthen its position in the market.
How to Measure First Call Resolution?
In a world where customers value efficiency and a seamless support experience, mastering FCR can be the key to not only keeping your customers satisfied but also optimizing your customer support operations. Let's take a look at a few steps to help you get there:
Step 1: Define what Constitutes a Solution 
To begin with, establish clear criteria for what is considered a resolved customer issue. This usually means that the customer's question or problem is completely resolved and they are satisfied with the outcome.
Step 2: Track Customer Interactions
Record all customer interactions, such as phone calls, emails, chats, or in-person visits. Each of these interactions should be labeled with a unique identifier.
Step 3: Identify Initial Contacts
In your records, identify which of these interactions was the first time a customer contacted you with a particular issue. This is your first contact.
Step 4: Track Subsequent Interactions
For each initial contact, continue to track subsequent interactions related to the same issue. These can be follow-up calls, emails, or any other contacts made by the customer.
Step 5: Calculate the FCR
To measure the FCR, divide the number of first contacts in which the issue was resolved on the first attempt by the total number of first contacts. Multiply the result by 100 to get the percentage.
FCR = (Initial contacts resolved on the first attempt / Total number of initial contacts) * 100
Step 6: Collect Feedback
Don't forget to collect feedback from customers to make sure they are truly satisfied with the problem resolution. Customer satisfaction surveys or post-interaction feedback forms can be useful for this purpose.
Step 7: Analyze and Improve
Regularly analyze your FCR metrics and look for patterns. If the FCR is low, find out why problems are not resolved on the first call and work on improving customer support and training processes.
Step 8: Set Goals
Set FCR targets based on industry standards and your company's goals. These targets can serve as benchmarks to measure your customer service team's performance.
Step 9: Perform Ongoing Monitoring
FCR is not a one-time event; it should be an ongoing process. Keep tracking and analyzing your FCR to ensure that your customer support efforts are continuously improving.
What is a Good First Call Resolution Rate?
A good first-call resolution (FCR) rate is a key indicator of customer service performance and quality for many companies. It reflects how efficiently your support team can resolve customer queries and issues without the need for additional calls or follow-ups. 
The ideal FCR rate is 100%, which means that every customer request is resolved on the first call. However, in practice, achieving this result is extremely challenging, as some inquiries may be more complex or require additional investigation.
Usually, a first call resolution rate in the range of 70-90% is considered very good. A higher rate indicates a high quality of customer service and can help increase customer loyalty and your company's reputation.
To achieve a good FCR rate, it is important to have a highly qualified support team, as well as optimized processes for handling customer requests. Technological tools such as CRM systems and knowledge bases can greatly facilitate the task of achieving a high FCR.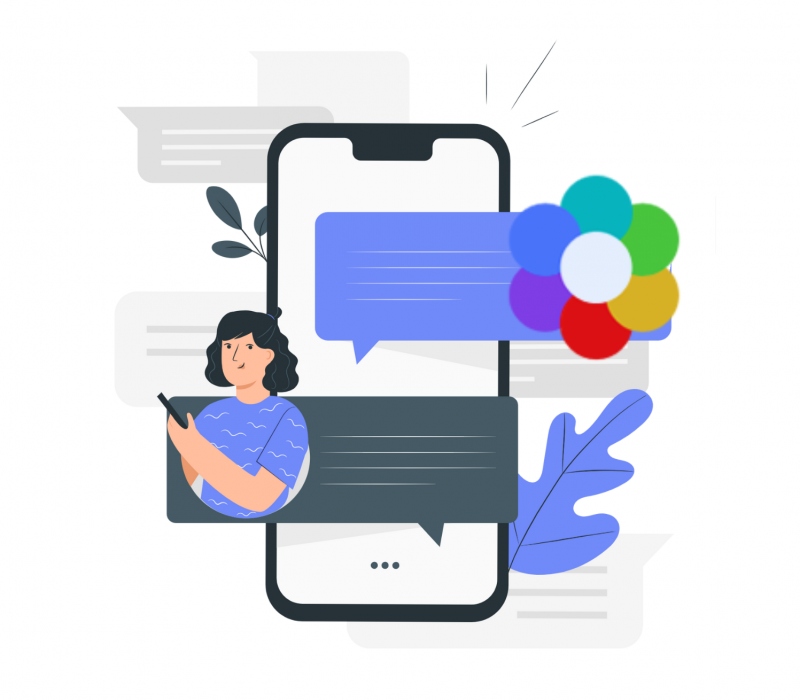 How to Solve the Problem of The First Call Resolution?
The first call in any situation can often be the most difficult. Whether you're dealing with a difficult problem at work or trying to establish a new relationship. How you approach this first conversation is crucial. We'll look at what will help you answer that first call effectively, enabling you to build connections, find solutions, and achieve positive results.
#1 Eliminate the wait
Self-service has become a major trend that allows customers to solve their problems, freeing up customer service professionals, reducing call wait times, and saving businesses money. Adding a self-service portal to your website or mobile app allows customers to take matters into their own hands and improve the quality of the first call.
#2 Get as much information as possible
Provide comprehensive training and invest in a CRM solution so that call center agents have the information they need to solve problems on the first contact.
#3 Provide clear instructions
Call center agents need to be clear and concise when answering customer questions or providing instructions to reduce confusion and facilitate faster resolution. They should also provide relevant information.
#4 Show and teach your customers
Call center agents should take the time to walk customers through how they resolved, increasing the likelihood of a first call resolution and preparing them to repeat the process themselves in the future. This will eliminate the need for a second call.
#5 Ask these questions before ending the call
The call isn't over until the customer hangs up, and when they do, it's in the agent's best interest to do one last check-in before they hang up.
"Have I completely solved your problem?"
"Is there anything else I can do to help you?"
"Would you like to learn more about our support center?"
Note that the three questions ensure that the problem has been addressed and resolved, that the customer has no additional issues to address, and that the customer knows how to access the company's knowledge base.
#6. Equip your agents
It is important to equip agents with the right tools, knowledge, and training to handle any call they may receive with confidence. Training should be thorough and practical, and agents should maintain a comprehensive internal knowledge base. Additionally, invest in a CRM system and other call center software to automatically update calls, create tickets, and perform skill-based routing. This will help to increase your first call resolution rate.
#7. Review your methods regularly
Regularly review support calls, emails, chats, etc. to understand the strengths and weaknesses of your customer service team. Also, offer customer feedback to learn what went well and what didn't. Update internal processes and procedures to make them more efficient.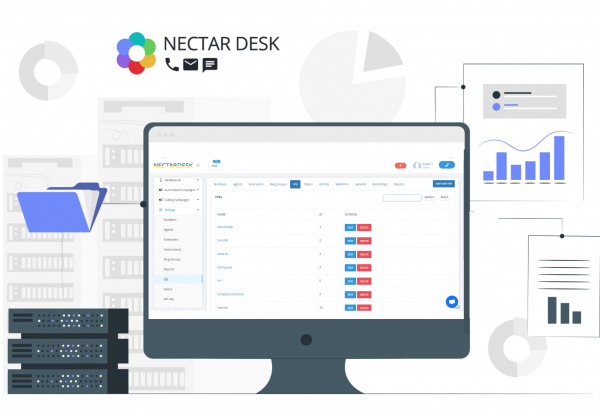 TOP Nectar Desk Powerful Tools that Can Enhance First Call Resolution Rates
Nectar Desk has powerful tools that can significantly improve the customer experience. These tools are designed to make it easy for agents to solve customer problems from the very first call.
#1 Intelligent call routing: Nectar Desk offers call routing that automatically connects callers to the most appropriate agent for their specific issue, increasing the likelihood of resolving problems on the first call and eliminating the need for multiple transfers.
#2 Comprehensive knowledge base: Nectar Desk provides a knowledge base filled with valuable information, including answers to frequently asked questions and recommendations for solving common problems. Agents have quick access to this resource, enabling them to resolve issues accurately and quickly, thereby increasing first-call resolution rates.
#3 Real-time collaboration: Nectar Desk facilitates agent collaboration with its internal chat and conference calling features. Agents can communicate with each other in real-time, asking for help when needed. This collaborative approach increases the chances of solving customer problems on the first call.
#4 Interactive voice response (IVR): Nectar Desk's IVR system acts as a menu that allows customers to select the appropriate option and connect with the most appropriate agent to resolve their specific issue. This minimizes the need for referrals and ensures that customers receive immediate assistance.
#5 Implementation process: Implementing Nectar Desk tools is a simple process. Start by assessing your current customer service system to identify areas for improvement. Customize the Nectar Desk tools to meet your requirements and train your agents to use them effectively. Nectar Desk offers training programs and support to help with this implementation process.
#6 Analytics and performance tracking: Nectar Desk provides analytics and its tools to monitor the effectiveness of your first call handling. This analytical data provides insights into call duration, problem resolution speed, and customer satisfaction. This data allows you to identify areas that need improvement, as well as to identify the teams or agents that have achieved the best results.
Strategies for Improving FCR
Improving First Call Resolution (FCR) is a critical task for any company that provides customer support services. FCR indicates the ability of the support team to resolve and fix customer issues during the first contact, without the need for further messaging or calls. A high FCR not only indicates an efficient support team but also helps to increase customer satisfaction. Here are some strategies to improve FCR:
Comprehensive training: Make sure your support agents are well-trained and have a deep understanding of your products or services. Knowledgeable agents are more likely to resolve issues from the first call.
Skill-based routing: Use intelligent call routing systems to match customer inquiries with agents who have the appropriate skills and experience. This reduces the likelihood of call diversion and increases FCR.
Empower agents: Give support agents the authority to make decisions and propose solutions without having to get management approval on every issue. This autonomy can speed up problem resolution.
Analyze data: Use customer metrics to identify common customer issues and their root causes. With this information, you can proactively address recurring issues and provide agents with better tools to solve them.
Customer feedback: Get feedback from customers about their experience with your support team. Use this feedback to continuously improve your support processes and identify areas that need attention.
Self-service options: Develop self-service portals, FAQs, and chatbots so that customers can find answers to frequently asked questions and resolve issues on their own.
Continuous training and development: Offer your support team opportunities for ongoing training and development. Stay on top of industry best practices and new technologies to ensure agents have the latest tools and knowledge.
Quality assurance: Implement a quality assurance program to monitor and evaluate customer interactions. Provide agents with constructive feedback to help them improve their skills.
Track metrics: Continuously monitor FCR metrics, track progress, and set realistic goals for improvement. Review your strategies regularly and adjust them as needed.
Customer-centric culture: Develop a customer-centric culture in your organization. Make sure all employees understand the importance of FCR and its impact on customer satisfaction and loyalty.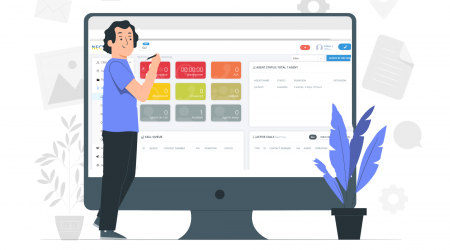 Conclusion
First call resolution (FCR) is a vital metric for companies that strive to deliver exceptional customer service. By leveraging Nectar Desk's powerful tools, companies can improve their FCR rates, increase customer satisfaction, and improve operational efficiency. From comprehensive customer insights to intelligent call routing and integrated knowledge bases, Nectar Desk provides the tools and supports your need to succeed. Implement Nectar Desk's FCR tools in your business, train agents effectively, measure performance with analytics, and watch your FCR rates skyrocket. Ready to get started with Nectar Desk today?