Warm Transfer Vs Cold Transfer: What You Should Know

It's an open secret, that to be helpful and successful, call centers should take into consideration the level of customers' satisfaction, which often depends directly on the call quality.
But when your business is facing a high call volume, the average answer time can get worse, so it should obviously be compensated by the high quality of support your call center agents offer. To achieve this goal, call operators should be familiar with all the details of the services provided and be good at what they introduce to their customers.
Still, sometimes a customer simply needs to be connected to a different department to get answers to his questions. Here is where call transfers can be a good help.
What is a Call Transfer?
A call transfer is the process of moving a live phone call from one user to another. No matter if it is inbound or outbound, a call transfer option lets you redirect a phone call that's currently in progress to another phone number, agent, or extension.
A call transfer option can not be overpraised – forwarding a call to the right department in time maximizes your agents' productivity, meantime your callers get help quickly and have nice experiences after contacting your Call Center.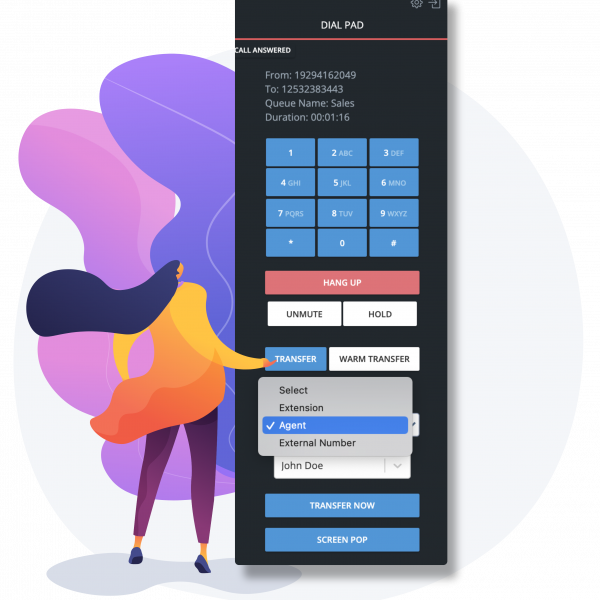 Cold Transfer
A cold call transfer happens when the Call Center agent passes the conversion to another agent and leaves the call once the transfer button is clicked. In this case, the desired agent receives a new inbound call he is not informed of. If he is busy with some other tasks and can't pick up the call, this call will go to voicemail.
Though cold transfers are quick to initiate, they can be difficult because they are pretty much starting from scratch as there was little to no information transferred.
The hardest part about these types of transfers is the reaction time and the disadvantage a caller and receiver have. Choosing this transfer type, you should keep in mind that the most important task of a Call Center is to make the customers feel as if they mean a lot to the company, and wading around blindly does not help the relationship.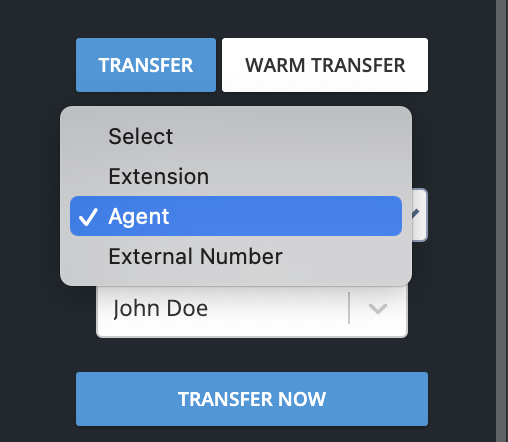 Warm Transfer
A warm call transfer means that the agent talking to a customer, will first speak to the appropriate agent he is transferring the call to, introduce a customer to this agent and only after that leave the call.
Traditionally, during the warm transfer, the caller is put on hold while the call center operator dials his colleague or the desired extension to pass the call. After being informed, the transfer destination can then accept the call being better prepared to help, and complete the transfer.
The warm transfer has numerous benefits for both Call Center agents and callers. For those who call, there is no need to repeat themself numerous times to different agents, meanwhile, an associate receiving a warm transfer is already aware of the caller's needs.
A Tip from Nectar Desk 👉🏻 : When you are going to put a client on hold, make sure you have nice and not annoying hold music on the line to keep your customer engaged while he waits.
Check out our recent blog "How to Optimize Your Call Center Hold Time and Get More Satisfied Customers" to initiate transfers more professionally👇🏻
Warm Transfer vs Cold Transfer
As we've figured out above, cold transfers occur when the agent answers the call of a potential customer and transfers him directly to a responsible customer service representative with no introduction. A warm transfer is where a customer is transferred to your team member telling him what that customer or caller needs.
Throughout the process, quite a bit of information is collected and it is very helpful to have reliable software that displays it correctly and in the most convenient way so Call Center agents can be friendly and knowledgeable of the person that is on the phone.
Considering Nectar Desk Call Center Software, you will easily reduce customer wait and hold times when they call your organization, save your agents' time and increase productivity, help them to realize their potential, and speed up call resolutions. Nectar Desk provides a robust warm and cold transfer option that can make it easier for any customer service agent and sales manager.
Choosing the right software is essential and Nectar Desk can give you everything you want plus more!
Request a free demo session with the Nectar Desk team and we will show you the transfer option in action as well as introduce you to our advanced functionality for your Contact Center.