Getting in Touch With Thousands of Clients Through Voice Broadcasting
Since AI made entry to customer service industry, it has brought some vibrancy to the industry, yet most consumers are wary of chatting with bots. As call centers focus on cutting costs by introducing robocalls in place of human reps, the challenge is what customers may think when they learn that they're being handled by a bot.
But that's not the real problem; the question is whether the robo calls software can give clients direct and appropriate response without engaging them in cycles of unproductive conversation. Machine learning and supervised AI can help accelerate the process in which robots assimilate human intelligence.
Even with so much development still needed, robo calls software has enabled contact centers to handle simple and common requests with higher success rates than expected. More than 50% of queries in call centers are related, and through machine learning through AI, robos get to know FAQs and answer them accordingly.
Making Robo Calls with Voice Broadcasting Software
It's always paramount for a company to maintain a personal touch with clients whether when conducting marketing campaigns or launching new offers to retain the acquired leads. It can be overwhelming for customer care team to call every lead out there – and that's where voice broadcasting software pops in. It enables the company to use voice robo calls to get in touch with thousands of clients in their time zones at once.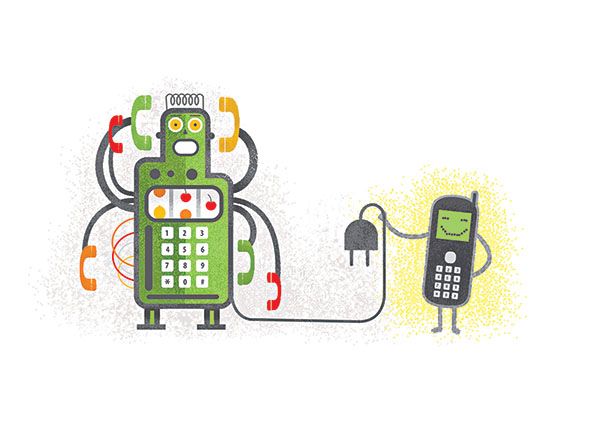 Call broadcasting is faster and the surest way of hitting it off with tons of prospects who are not yet sure if they can be part of your client base. This method enables you to make hundreds of voice calls at a small cost. They are efficient in facilitating transmission of emergency reports, season's offers and official updates.
Voice Broadcasting Software – The Benefits
When you correctly use robo calls software, you can contact scores of potential leads with just a single shot. Remember that the software can be configured to suit your needs regarding time and content. The system can be integrated with other tools such as the ACD to enable it to skip answering machines and busy signals.
Voice broadcasting software performs tasks which could have taken ages and lots of resources if it were accomplished by human agents. Agents can then focus on other essential aspects of the business. Human communication is somehow idiosyncratic with tons of variations in context and intonation. AI enables robos to capture these differences and respond to customers' requests.
Humans can easily get fatigued during peak hours when auto dialers keep placing a call after call, but robo calls software will connect to customers at any time for several hours with the same pace and tone. Therefore, your company can reach out to thousands of prospects with same tone and message regardless the time of the day.
The personalized scripted voice broadcasting messages leaves targets with a sense of recall which enables your organization to build robust relationships with the clientele. Nectar Desk comes in as a call center SaaS software coming with powerful voice broadcasting software to help your SMB connect to leads seamlessly at a lower cost. If you need more information, you can contact our support team at any time for immediate support.