WhatsApp Integration
Thanks to Nectar Desk integration with WhatsApp Business, medium and large businesses can provide customer support and deliver important notifications to customers.
Integrate your business WhatsApp account with Nectar Desk and handle your WhatsApp conversations directly from the Nectar account with the possibility to have calls, SMS, email, and other functionality. There is no need to communicate with clients using numerous channels – all is at hand.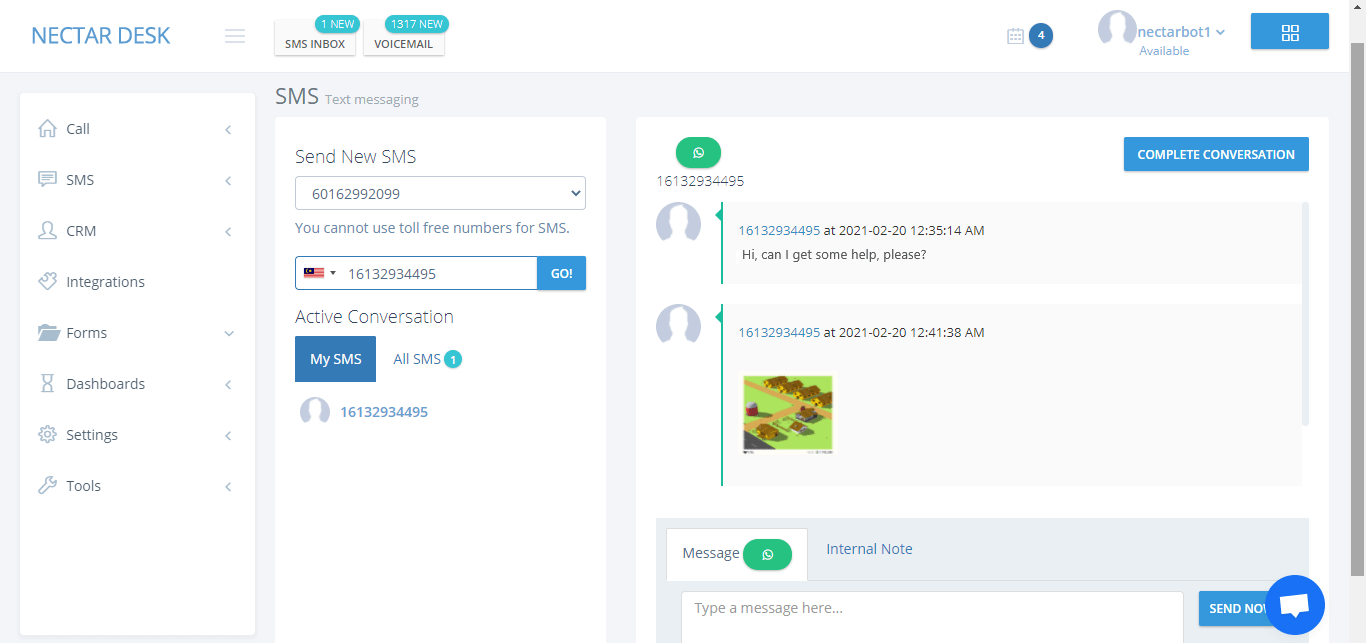 If you have multiple WhatsApp numbers – we can support all of them in our system so you could keep in touch with your clients directly from Nectar Desk.
Agents from your company's different departments may be assigned to different instances to work with different WhatsApp numbers. So if the agent isn't assigned to the particular WhatsApp instance, he won't be able to send or receive WhatsApp messages and see the associated data in messaging history or the other agents' active conversations.

How does WhatsApp Integration work?
You can handle conversations with customers from the SMS section. All the incoming texts will be displayed at Active SMS, where you can quickly send your replies.
Moreover, you can easily check the status of texts you've sent to your customers in SMS History and see if they were read by the recipients:

Furthermore, the conversation history can be exported anytime or you can use a filter to find the required text.
There is also an ability to share photos and leave internal notes to your teammates.
WhatsApp Enabled Numbers Column
If in your Nectar account there is any contact with enabled WhatsApp messaging ability, we show the column WhatsApp Enabled under Settings > Numbers, so you could know for sure you can use this number for WhatsApp texting purposes:

How to enable WhatsApp Integration?
Please check the post to set up WhatsApp in your account.