In this article, you will get to know how to increase the productivity of your company with the help of our CRM.

Customer relationship management (CRM) allows you to manage customer relationships through marketing. Nectar Desk CRM is designed to reduce the repetitive and tedious parts of a contact center agent's job.

Our CRM is a kind of a contact database, with the help of which you can optimize your business and make a significant profit for your company. You may easily automate and simplify many essential tasks that allow you to build productive and long-lasting relationships with your customer base.
Let's dive into it deeper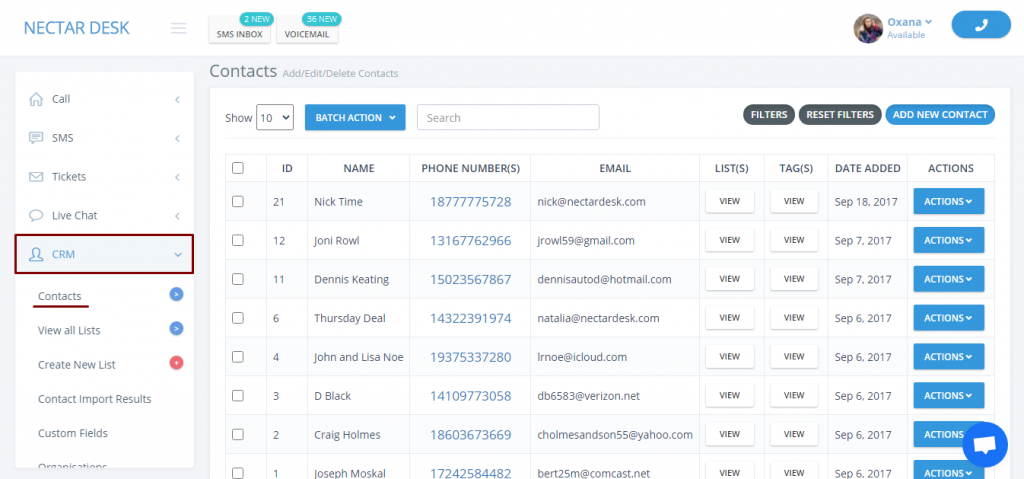 Contacts section in Nectar Desk is very similar to your mobile's phone book. It's the secure storage for all your contacts, which includes information about their full names, phone numbers, email addresses, and the date when the contact was added to your CRM. You can view the lists and tags, contact belongs to.
Under the Actions button, you can edit the contact's details anytime or add the new one once needed. Moreover, by clicking on the "View" button, you'll be able to see recent activity for the specific contact, especially last calls, and text messages for today, last week, or month.
You may create various Contact Lists in your Nectar Desk account. You can see the ones you already have at the "View All Lists" section or create a new one with the help of the "Create New List". Watch a video and learn how to upload the new lists to your CRM in a few clicks:
You can also add Organisation which your client belongs to:
To do it, go to the "Organisations" section and add it, then in the "Contacts" press on "Edit" button and choose the required organisation from the drop-down menu.
Contact Tags section allows you to add as many tags as you need for further usage. Tag is a keyword or term assigned to a piece of information. You can choose the previously added tag under the Contact's details (Contacts -> Edit). This kind of metadata helps describe an item and allows it to be found again by filtering:
In case you've already integrated you Nectar Desk account with Pipedrive, Active Campaign or any other CRMs, the Deals and Organisations you have in your basic CRM will be duplicated into Nectar Desk CRM as well so you could have access to them directly from your account:

Thanks to the user-friendly interface of our CRM you will always have full information about your customers on the spot and manage your business professionally and effectively 🙂