Call Queues Improve Your Call Center Experience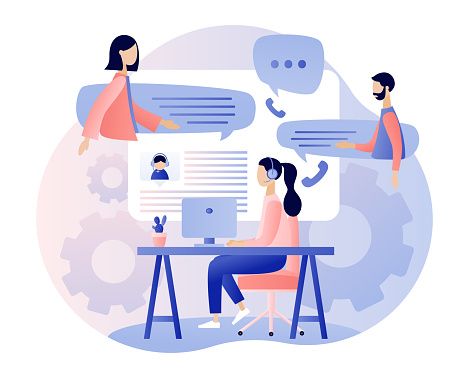 Modern people are extremely busy and hate waiting. Almost 60% of customers consider waiting on hold even for 1 minute to belong. The average wait time for a call center or contact center customer is 20 seconds. If callers are made to wait longer, they are likely to hang up. So, long wait times may cause many abandoned calls and customer dissatisfaction. It is easy to avoid disappointment due to the call queues feature.
If you need to make sure that callers wait patiently till they connect with an available agent, call queuing is the best solution for your customer service. Call queues are the cornerstone of the effectiveness of call centers. There is a variety of methods, tools, and practices to lower the average time that a caller spends in the call queue. The goal is to have the lowest average call queue time possible, which will result in more effective service and happier customers.
Although cold calling is one of the most common techniques in B2B services, it is quite often considered to be annoying and bothersome. People are not willing to answer numerous questions and listen to long meaningless monologues. You should be armed with the right practices and tools to catch the attention of prospective customers. We have prepared useful tips to master the art and science of cold calling and become the highest-paid sales rep at your company.
A call queue is a business phone system feature that directs inbound callers into a virtual line based on pre-set criteria. They are placed on hold until the ideal agent to assist them becomes available. It is similar to standing in a line while waiting for entry. If your call center has proper queue management strategies, a virtual queue will be a much less frustrating experience for clients and agents than a physical one.
Of course, call queuing doesn't completely eliminate the chance that a customer will need to wait on hold. The purpose of call queuing is to cut down wait times and consequently increase customer satisfaction. An auto attendant system would handle inbound calls and place them in the call queue according to pre-established priorities. A call queue brings uniformity in call inflow management.
The Importance of Call Queue Management
If your contact center is overloaded with incoming calls, it may face a lot of abandoned calls. Customers will hang up because of too long wait times. Some of them can call back with a mind to make a deal, but the others will choose another service. Call queuing creates a system that helps not to miss new great deals. An automated voice reassures customers every second that their call will soon connect to the agent as soon as they are available.
However, call queue management should be well-organized to bring significant outcomes. World-leading products make no sense if a client cannot reach the sales representatives to make a purchase. Customers need to connect to your representatives in order to make sure that your service is the greatest in the world. The up-to-date software, management, and strategies will help ensure that your queue times stay within a healthy statistical range.  All these things together enhance first-call resolution rates, improve customer satisfaction, and decrease call abandonment rates. 
Customers look for prompt service and fast solutions and making them wait for long may have a negative impact on the call center's reputation. Moreover, solving issues in the first call will reflect professional and high-quality customer service to your clients. It is necessary to have a high call queue time to enhance that the customers are happy and satisfied with the service they get. Otherwise, callers are likely to stick on hold and they may not want to come back again. Read further to find three tips on how to improve call queue management from Nectar Desk software.
Three Tips for Better Call Queuing
Create Ring Groups 
Ring groups are sets of agent phone numbers pre-set to ring based on preconfigured settings. They are extremely helpful for large businesses or departments, as there is an option to set specific agents for specific types of calls. Admins can configure ring groups so that all callers are answered as soon as possible. The best result is when the caller connects with a live agent on their first call.
Configure IVR
Interactive Voice Response (IVR) provides self-service options for inbound calls. It often saves time and prevents the caller from needing to speak with a live agent. You can set digits to press or prompts for your clients up to you. IVR also lets customers clearly explain the reason for their call by responding to questions via their phone dial pad. 
Offer Automated Callbacks
You can let customers choose when to receive a callback instead of having to wait on hold for an unspecified or especially lengthy amount of time. Automated customer callbacks will show that you value their time as much as they do. It is easy to configure on your account in order to take your call center to the next level.
Takeaways
Proper call queues management is a must-have to deliver an amazing experience for your customers. Their satisfaction will bring you more profit and opportunities to grow. Our Nectar Desk team is constantly developing our software to offer the tools for call queuing and much more. For example, there is Call Queue Dashboard that allows tracking calls waiting in the queue.