Watch the video to know the way Nectar Desk integrates with Zoho:
If you are using Zoho CRM, we have good news for you – now all your calls and SMS will be logged into Zoho in a few seconds.

With the log call feature of this integration active, when you make a call from Nectar Desk, the log will show up in Zoho under the contact that the call was made to and it will be logged as an activity. Meantime, your text messages will be logged in Zoho as notes.
Please follow the below steps in order to integrate your Nectar Desk account with Zoho:
1. First, navigate to the Integrations screen:

2. Choose Zoho and press on "Integrate" :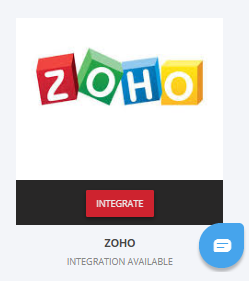 3. In order to modify the integration, please contact Nectar Desk Support and we will help you to integrate Zoho account with Nectar Desk:
4. Here is a list of options you can have with Zoho integration:
Enable the ones which are necessary for you and don't forget to save changes 🙂
That's it. Now your accounts are successfully integrated.

Then please install our Click-to-Call extension in order to make calls and send SMS directly from your Zoho account. After you install it, all the numbers will be highlighted and two icons will appear:

Now you can make calls directly from Zoho. Once the call is initiated, the log will appear under the Activities section in Zoho: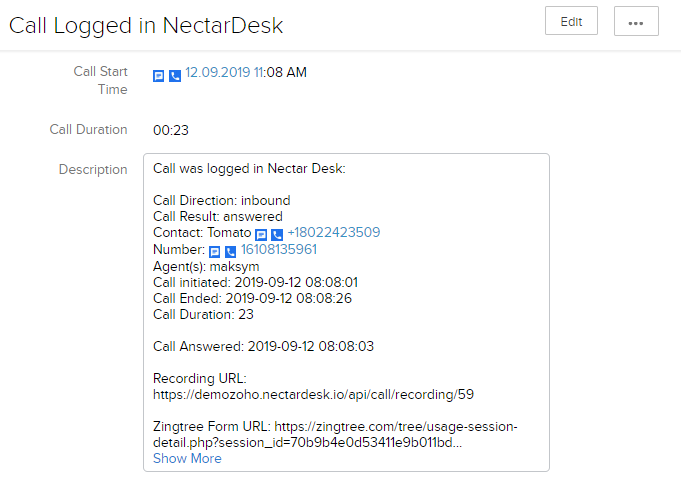 It contains the information about call direction, call result, contact phone number, your number in Nectar Desk account, the agent who was responsible for the call, the time and date when the call was initiated and its duration. Moreover, you will always have access to the call recording URL so you could listen to the required call once needed.

One more useful option is the ability to access Zingtree Form in case you have Zingtree integration. You can fill in this form with the required data during the conversation with your customer and it will be stored in Zingtree with the ability to have access to it from Zoho in one click.
Text messages will be logged in Zoho as notes: