9 Reasons Why Call Centers Without Hosted Predictive Dialers Can Be Unproductive
Managers are working their fingers to the bone to keep their businesses running in this wildly competitive world. The surest way of gaining leverage in the market over other firms is by tailoring your services to the customer. Forward-thinking call centers have implemented the use of predictive dialer software to spearhead their efforts of winning more prospects. This auto dialer system uses artificial intelligence to route calls to the right departments. Highlighted below are some of the ways these dialers bolsters productivity.
Hosted Predictive Dialer Benefits:
Saves Time
While reps would have dialed a series of phone numbers one by one, the hosted predictive dialers use well-crafted algorithms to robo call a list of phone numbers in the database. It intelligently bypasses busy signals, disconnections, answering machines, DNDs and unresponsive extensions. This saves about 20 minutes in every hour.
No Dropped/Abandoned Calls
With these dialer systems, it's almost a guarantee that all active lines will go through because the auto dialers only route calls that have been picked by the prospect.
More Prospects Handled Per Hour
As soon as an assistant ends a call, he/she can instantly begin interacting with another active client on the line. Businesses can utilize these hosted predictive dialer solutions to hire virtual agents so that more clients can be handled per hour.
Customer-Centric Support
Predictive dialers combine with other call center cloud tools such as CRM to route calls to the correct departments. When prospects are handled by the agents they want, they feel satisfied, and they won't stop coming back for repeat business.
Bolstered Agent Productivity
First, reps don't do any manual dialing process – a task that's often tiring and frustrating. Secondly, they are given a chance to use their experience and skills to handle specific clients. And third, agents get motivated as they can close as many deals as possible in a day.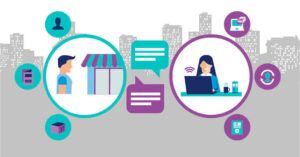 Real-Time Feedback System
Contact center managers find the hosted dialer predictive systems very powerful because they relay vital info about call status, queue lengths, available agents and dropped calls in real-time. This enables managers to make forecasts so that they know the time to expect high call volumes.
Increased Efficiency and Flexibility
These automatic phone dialers make use of open source codes that are usually available to the public for free. The contribution from various developers has enabled the production of a robust system that has automated the entire calling process thus promoting efficiency. No agent needs to record caller's information anymore as these tools take care of that.
Quality Service
Reps are operating on an automated system where their work is only to create relationships with the client. Because it is a VoIP system, they can utilize CRM and real-time reports to provide fast and appropriate service to the customer.
Cost-Effectiveness
Cheap hosted predictive dialers are amply available online. Besides that, the system allows you to save on staffing costs as you'll only need few agents as the dialer takes much of the workload. The system also allows you to effortlessly hire on-demand virtual agents to give a hand to on-premise reps when call volumes surge.
Getting the best out of your auto dialer means choosing the right system. Take your time and browse through several hosted predictive dialer reviews before settling for one. If you don't have that time and energy, as Nectar Desk, that's what we do, and we'll be glad to assist. Our call center cloud solutions are diverse and suitable for any kind of enterprise. Our support team is ready to help you if you may require any clarification.