Optimizing Phone System Settings for Happier & Productive Agents
In the beginning, everything runs ostensibly smooth and then, suddenly, murmurs from agents and complaints from customers come thick and fast. At such scenarios, most managers are good at pointing fingers without spending time scrutinizing the underlying issue. More often than not, we tend to shift blame on one another and the degree at which prospects increasingly become stubborn and difficult to handle. We ignore the phone system.
While you might be using the latest system, there are a few tweaks that you need to make to expedite processes in your contact center. Calls need to be routed to the right departments to avoid call transfers and forwarding. Efficient CRM call center solutions and workplace collaboration software should enable agents to extract useful prospect data on a whim.
Clients shouldn't bear the pain of repeating information every time he/she interacts with an agent. Efficient contact center software conjoins customer experience and rep's performance at their hems.  Your reps don't have to juggle the heaps in the database to find a brief history of the prospect. This does not only wear out the client's patience but also frustrates the reps leading to low productivity.
CRM Software for Call Center
The API ecosystem has enabled call centers to use a variety of CRM call center solutions to monitor and pull up tons of data from the web so that reps can arm themselves with vital prospect details before handling them. CRM tools also integrate seamlessly with cloud-based contact centers allowing virtual agents to take advantage of its unprecedented benefits.
The wisdom of the hindsight that agents acquire through the use the CRM call center software enables them to know that leads can be easily converted if they feel that conversations are personal. Prospects are happy when they learn that you know them before they introduce themselves.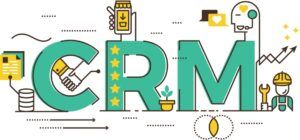 CRM call center solutions present reps with a quick and holistic overview of the client. A well-integrated CRM system reduces the time for handling agents thus decreasing queue lengths. It can also bolster upselling and cross-selling as agents can already know about inbound leads. These customer relationship tools increase the number of First Call Resolutions (FCR) which is a crucial factor when converting leads and increasing sales.
During off-peak business hours, your team can collaborate and dig deeper into the CRM database while they anticipate an insurgence of inbound leads from your marketing funnel. This minimizes wastage of time when there are calls to handle. During this period, reps can also follow-up callbacks, dropped calls and voicemails after finding out through CRM what they need to offer to the prospect. These CRM call center solutions make the work of the reps a downhill task thus enhancing their productivity and ultimate customer experience.
Choosing the Right CRM Tools for Your Contact Center: Things to Consider
The cost-effectiveness of the call center CRM solution you're about to pick
Review your existing software and technologies to check for compatibility
Embrace off-site or hosted CRM deployments
Determine if the CRM tool you're choosing can grow smoothly with your business
What customization features and extras come with the tool?
Determine its usability so that it can be used on-the-go as soon as it is deployed
Setup your phone systems correctly by incorporating the right CRM software for call centers and you'll start to realize a higher productivity. Connecting to the right vendor and contact software partner is even more important. We at Nectar Desk provide a raft of tools and turnkey solutions for any business. If you've any query, just contact us below, and you'll get immediate assistance.