Call Whisper and Barge in
Call center managers often share a common desire to coach their call team members to guide them in their conversations with prospects or customers.
It's an open secret that it's not practical to hover over each call agent's shoulder and instruct them on what to say. To make the training process more comfortable and effective for both managers and new stuff, it's possible to use digital applications to whisper tips and hints to a call agent at strategic times during a call.
Let's consider the options Nectar Desk has for such purpose.
1.

Whisper in
option
Call whispering is a phone system feature that gives managers or experienced peers the ability to give verbal advice to a call agent during a sales or support call without the prospect or customer being able to hear it. It's a valuable feature for sales and support teams for the next important reasons:
1. It helps in training new call center agents.
You can share your experience with colleagues, give them some useful hints or guide through the following steps in the conversation.
2. It's a beneficial tool for coaching call agents that are struggling to meet your expectations.
It's no secret some people need more time to succeed in the new scope of work than others. If you've noticed that Tom requires your assistance a little bit more than Jack, you can easily coach him using whisper in the feature.
3. It offers a positive way for call agents to improve their communication skills.
While agents are talking to the clients, you can listen to their conversation and make some notes for further analysis without giving the immediate hints. Whisper in option is highly effective for such purpose, as the newcomer won't be confused that someone else is listening to his conversation with the customer – no one likes breathing down his neck. Meantime you'll be able to control the call without interfering and the excellent progress will be achieved after the call, once you share your useful observations and practical comments.
4. Highly-skilled call agents will impress your new leads and important clients.
Clients always first.
And what could be better than the satisfied clients? Maybe just inspired agents who are happy to do their job and achieve success. Furthermore, the self-confident agent is often more credible and effective.
5. It gives you the opportunity to help call agents handle stressful situations or solve tough problems right on the spot.
It's better to resolve the client's problem during the first call rather than put it off for the future – here is where your experience and our whispering option will come to the aid.
How to use Whisper in option at Nectar Desk?
Once you see the agent is having a conversation at the Active Calls Dashboard, the Listen Call button will appear near this call:

> you'll receive the inbound call > press Answer: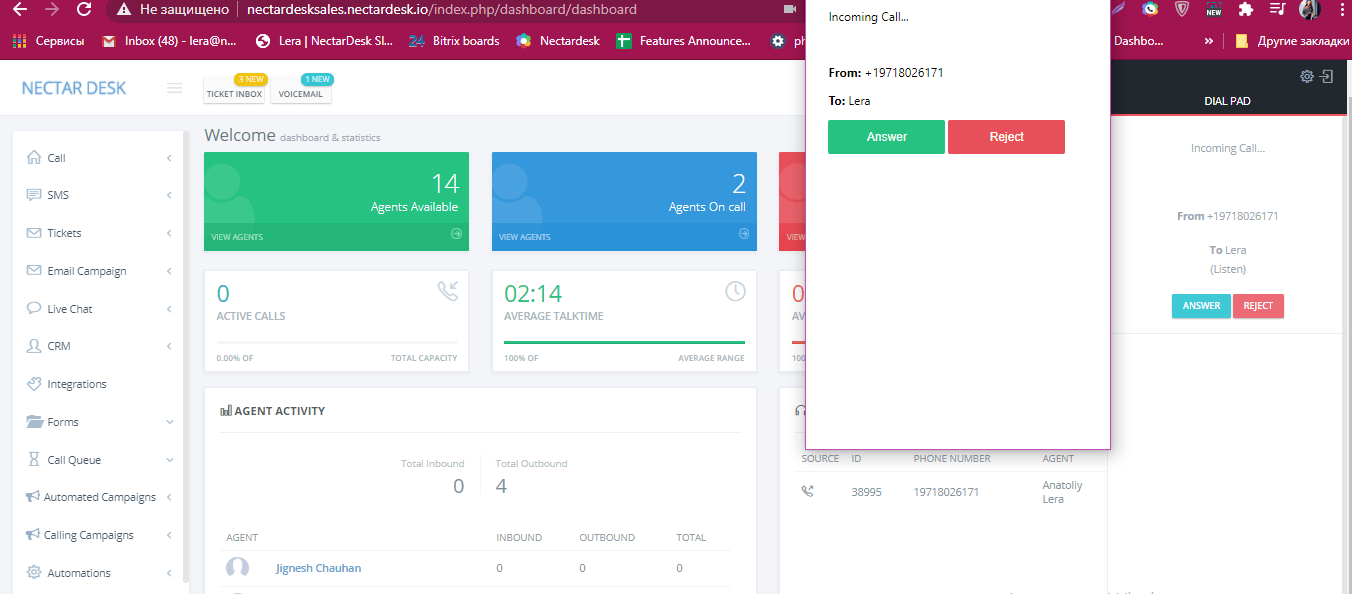 > and choose Whisper in: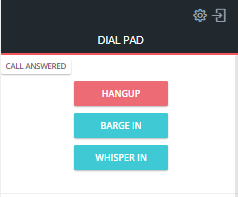 Whether you use your call center for inbound calling, outbound calling, or both, call whispering gives you the functionality to enhance your training and productivity through real-time learning.
2. Barge in option
The barge in option allows you to have a three-way conversation – both the agent and the customer will hear you. It allows you to conference in the phone call of your colleague.
Call barging can be very intimidating for less-experienced call agents to face a call where prospects or customers become irate. It may cause them to lose their confidence and that could affect their performance for the rest of the day or longer. With call barging, a manager or experience peer that's been listening in on the call will recognize when there is a need to escalate the call to a higher tier of sales or support. Call barging allows them to take over the call, handle it professionally, and remove the pressure from the initial call agent.
The usage of Barge in is simple to the previous option – just choose Barge in instead of Whisper in.
Questions? Send us an email to support@nectardesk.com and we'll be glad to assist you 🙂