4 Ways to Create an Emotional Connection with your Customers through Cloud Call Center
Today's consumers expect big things from the brands they choose to do business with. The majority or purchases today are driven by some type of emotional factor, and businesses that prioritize making an emotional connection with their clients and leads are experiencing the benefits.
People want to make a difference, and they want to feel good about their purchases. They want to have long-term relationships with businesses they can trust, and all that starts with providing a superior customer experience that is emotionally charged.
Here are 4 Things Your Business Can Do Differently with Contact Center Software:
Turn Your Brand into a Story with Contact Center Software
People love a good story, especially when it's something they can relate to. Where did your idea and mission come from? What are your values today, and why did you start this company in the first place?
Create content around your history and story to educate and inform the public about your story, in a meaningful way that will matter. If you want your brand to have a voice, you are going to have to give it one and bring it to life. While you may not have the massive budget of the Coca-Cola's of the world, that doesn't matter. What matters is that you control the narrative at own cloud call center and put the message out there.
Humanize Your Service with Cloud Call Center
Personalize and humanize your contact center software service whenever possible. Your agents should be coached and trained to speak to every single caller with empathy and compassion. With the right contact center software, your agents will have immediate access to the personalized information that will make all clients feel confident and appreciated every time they reach out to your call center.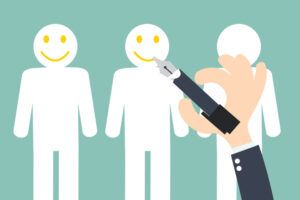 Ask Then What They Want From You, and Actually Listen
Customer feedback is huge if you want them to trust your brand to have their best interests at heart. But this part has multiple layers every company must consider. What type of products do your clients want and need from you? And how do they feel about their purchase and experience afterwards?
You need to be in contact throughout each stage of the sales and buying cycle, in order to truly understand whether or not you are meeting and exceeding their demands. And don't forget — you can't just collect the data. You must actually use the information you gather with your cloud call center to make real change.
Your contact center software should be equipped with all the functions you need to easily monitor and record customer feedback, satisfaction, and more.
Ensure Your Staff Know You Can't Succeed Without Them
Your staff must truly believe they are valued, understood, and important. If you want your staff to extend empathy and compassion to your callers, you must extend these same sentiments to them every single day with the help of own contact center software. After all, they are the blood of your organization. Shouldn't they be treated as such?
Give your staff the career development and growth opportunities they need to envision long-term opportunities with your company, and help them to achieve happiness in their work. Happy employees are productive ones — and these are the people who form the face all off brands.
If you need a contact center software that is capable of maximizing your customer's experience, check out what Nectar Desk call center has to offer. With a free trial, you can ensure they meet all your needs before you invest.