Transforming Communication With Call Center Software To Enhance Customer Experience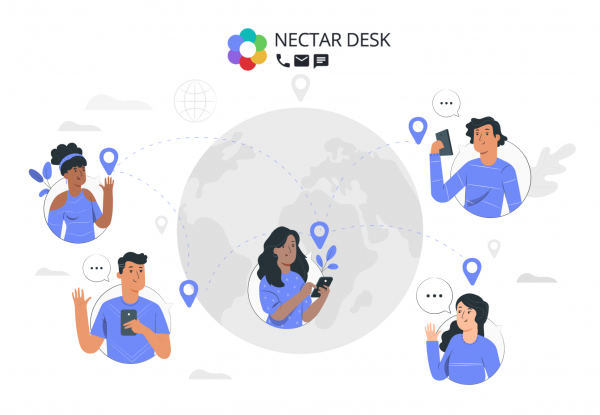 The days of traditional call centers relying on manual processes and outdated technology are over. The emergence of modern call center software has begun transforming communication and enabled organizations to improve the customer experience with state-of-the-art features and capabilities. From optimizing communication channels to personalizing interactions, from optimizing agent performance to providing real-time information, call center software is changing the way businesses interact with their customers. In this article, Nectar Desk discusses the importance of customer experience and communication transformation in today's business environment. They emphasize that delivering exceptional customer experiences has become a critical differentiator in a hyper-connected and competitive marketplace.
The Importance of Customer Experience and Transforming Communication in Today's Business Environment
In today's hyper-connected and competitive business environment, delivering an exceptional customer experience has become a critical differentiator. Gone are the days when customers focused solely on price and product features. Now businesses must understand the importance of creating a positive and memorable customer experience. Let's discuss the benefits of it :
Differentiation and Competitive Advantage
In an era when products and services often offer similar functionality and competitive prices, customer experience has become a key differentiation factor. It allows companies to create a unique selling proposition that sets them apart from their competitors. Companies can stand out in a crowded market by providing exceptional service, personalized interaction, and exceeding customer expectations. Customers are more likely to choose a brand that consistently delivers a superior experience, resulting in increased market share and customer loyalty
Increased Customer Expectations
The rapid development of technology has significantly increased consumer expectations. Today's consumers demand a seamless, convenient, and personalized experience at all stages of their interaction with a company. They expect businesses to understand their preferences, anticipate their needs, and provide customized solutions. Failure to meet these expectations can lead to customer dissatisfaction, lost opportunities, and even negative reviews. Therefore, businesses must constantly evolve and adapt to meet the ever-changing needs of their customers.
Customer Loyalty and Retention
A positive customer experience plays a key role in building customer loyalty and retention. Customers who have a great experience are more likely to become repeat customers and brand advocates. Loyal customers continue to support the business and become brand ambassadors, recommending the company to others. In addition, loyal customers tend to spend more, show higher brand loyalty, and provide valuable feedback for continuous improvement. On the other hand, a negative experience can drive customers away, resulting in customer churn and lost revenue.
Reputation and Brand Promotion
Customer experience has a direct impact on a company's brand reputation. Exceptional experiences generate positive word-of-mouth recommendations, online reviews, and favorable social media feedback. This positive buzz attracts new customers, builds trust, and improves brand reputation. Conversely, negative experiences can spread quickly through social media, damaging a company's image and scaring away potential customers. By prioritizing customer experience, companies can build positive brand perceptions and strengthen relationships with their target audience.
Customer-Centric Approach
A customer-centric approach is of paramount importance for businesses seeking to succeed in today's environment. By placing the customer at the center of their operations, companies demonstrate a commitment to understanding and meeting customer needs, preferences, and pain points. This approach involves collecting and analyzing customer feedback, using data-driven insights, and adapting strategies to better serve customers. By developing a customer-centric culture, organizations create an environment where every employee understands the importance of customer satisfaction and contributes to improving the overall experience.
Impact on Revenue and Growth
Companies that prioritize customer experience consistently outperform their competitors in terms of revenue growth. Studies have shown that customer-centric companies have higher customer retention rates, higher customer lifetime value, and better customer engagement rates. A loyal customer base not only encourages repeat business but also attracts new customers through positive recommendations and organic growth. What's more, satisfied customers are often willing to pay a premium for an outstanding experience, which also contributes to the company's bottom line.
Call Center Software is a Revolution in Customer Communication
Effective communication is at the heart of any successful business. To deliver exceptional customer experiences, organizations are constantly looking for ways to optimize their communication channels and interactions. One technological innovation that has changed the landscape of customer communication is call center software.
Call center software is a game changer in improving customer communication. It provides companies with a comprehensive set of tools and features to optimize call center operations, increase agent efficiency, and ultimately deliver an unparalleled customer experience. From automating call routing to integrating multiple communication channels, call center software enables organizations to revolutionize the way they interact with their customers.
In the past, traditional call centers have faced challenges such as long wait times, disjointed systems, and limited agent capabilities. However, with the advent of call center software, these limitations are being overcome. The software allows companies to efficiently handle high call volumes, prioritize urgent requests, and seamlessly route calls between agents and departments. In addition, it provides integration with other customer relationship management (CRM) systems, providing a holistic view of customer data and history, leading to personalized and context-aware interactions.
Call center software also provides companies with real-time analytics and reporting capabilities, allowing them to gain valuable insights into customer behavior, preferences, and pain points. This information allows organizations to proactively respond to customer needs, identify areas for improvement, and optimize their overall communication strategy.
In addition, call center software improves customer communication by allowing businesses to offer self-service options such as interactive voice response (IVR) systems and chatbots. These self-service tools enable customers to find answers to their questions on their own, reducing wait times and increasing overall satisfaction.
Optimization of Communication Channels: The Power of Omnichannel Integration
Omnichannel integration in call center software allows businesses to consolidate and streamline their communication channels, providing a cohesive and efficient customer experience. Instead of treating each channel in isolation, omnichannel integration provides a seamless transition between channels, allowing customers to switch between them without losing context or repeating information.
The power of omnichannel integration lies in its ability to provide a single view of the customer experience. When a customer reaches out through different channels, for example, starts with a chat and then switches to a phone call, omnichannel call center software captures and stores the entire conversation history. This allows agents to pick up the conversation where it left off, saving customers from having to repeat themselves.
In addition, omnichannel integration allows companies to provide customers with consistent messages and personalized experiences across all channels. Customer data and preferences collected from different touchpoints can be shared seamlessly across channels, allowing agents to tailor their responses and recommendations. This level of personalization increases customer satisfaction and builds stronger relationships.
Another benefit of omnichannel integration is the ability to manage customer interactions in a centralized and organized manner. With call center software, companies can prioritize and route requests based on their urgency, importance, or specific customer requirements. Agents have access to a single queue, ensuring that no customer interaction is overlooked.
By optimizing communication channels through omnichannel integration, companies can provide a truly seamless and efficient customer experience. Customers gain the flexibility to communicate through their preferred channels, and businesses benefit from increased customer satisfaction, increased efficiency, and improved brand reputation.
Automatic Responses and Self-Service Capabilities: Empowering Customers
Automated responses powered by call center software offer immediate and standardized responses to common customer inquiries. With the help of predefined scripts and intelligent algorithms, companies can provide instant answers, confirmations, or basic troubleshooting steps. These automated responses not only save customers time but also ensure a consistent customer experience across different customer interactions.
Self-service options are another powerful feature of call center software that empowers customers. It allows customers to find answers and solve problems on their own through intuitive interfaces such as interactive voice response (IVR) systems, knowledge bases, or chatbots. Customers have access to self-service options 24/7, eliminating the need to wait for agent assistance during business hours. They can search for information, track orders, make changes to their accounts, or even make simple transactions without human intervention.
Аutomated call center responses can be personalized based on customer data, allowing businesses to tailor the information provided and improve the overall customer experience.
The use of intelligent algorithms in call center software allows for continuous improvement and learning from customer interactions, ensuring that automated responses become more accurate and effective over time. Automated responses in call center software save time, provide instant solutions, and reduce costs by minimizing the need for a large agent workforce for routine inquiries.
By providing customers with automated responses and self-service capabilities, call center software has several benefits for both customers and businesses. First, customers appreciate immediate access to information and the ability to solve simple problems on their terms. This improves their overall experience by providing autonomy and convenience. It also reduces frustration caused by long wait times or repetitive conversations.
Second, companies benefit from efficiency and cost savings through automated responses and self-service capabilities. Agents can focus on more complex issues and provide personalized support to customers who need humanitarian assistance. By redirecting routine inquiries to automated systems, companies can handle a higher volume of customer requests without significantly increasing resource requirements.
Moreover, automated responses and self-service capabilities provide businesses with valuable data and information. They help identify patterns in customer requests, uncover areas for improvement, and customize support processes. By analyzing customer interactions and feedback, companies can continuously improve their self-service systems and enhance the overall customer experience.
Real-Time Analytics and Reporting: Insights for Continuous Improvement
Real-time analytics and reporting are critical components of today's data-driven business. They enable organizations to collect and analyze data in real time, providing insights that drive continuous improvement. In an era of rapidly changing markets and customer expectations, real-time analytics empowers businesses to make informed decisions, identify opportunities, and respond quickly to challenges.
Real-time analytics is the process of collecting, processing, and analyzing data as it becomes available, enabling organizations to gain instant insights and take timely action. It involves the use of advanced technologies such as big data processing, artificial intelligence, and machine learning to process large amounts of data at high speeds. By using real-time analytics, companies can track their operations, customer behavior, and market trends in real time, allowing them to respond quickly to new trends and make data-driven decisions.
The reporting aspect of real-time analytics involves the visualization and communication of information obtained through data analysis. Reporting tools and dashboards allow organizations to present data in a meaningful and easily understood format. Real-time reports provide up-to-date information on key performance indicators (KPIs), metrics, and other relevant data. These reports help stakeholders, from executives to frontline employees, track progress, identify bottlenecks, and track the impact of their actions.
Here are some key benefits of real-time analytics and reporting:
Immediate Insight:

Real-time analytics allows companies to gain instant insight into their operations, customer behavior, and market trends. This allows organizations to respond quickly to new opportunities and challenges, optimizing decision-making.

Proactive Decision-Making:

  With access to real-time data and information, organizations can make proactive decisions based on the most up-to-date information available. This allows them to capitalize on emerging trends, identify and solve problems before they escalate, and stay ahead of the competition.

Operational Efficiency:

Real-time analytics helps to identify inefficiencies and bottlenecks in business processes, enabling organizations to take corrective action quickly. By optimizing operations in real time, companies can reduce costs, increase productivity, and improve overall operational efficiency.

Improving Customer Experience:

Real-time analytics allows organizations to understand customer behavior and preferences at the moment. By gaining real-time insights into customer interactions, companies can personalize their offerings, improve customer service, and deliver a superior customer experience.

Continuous Improvement:

Real-time analytics and reporting facilitate continuous improvement by providing feedback that allows organizations to track their performance against goals, objectives, and key performance indicators. Real-time reports help stakeholders identify areas for improvement, make data-driven decisions, and measure the impact of their initiatives.
To leverage real-time analytics and reporting effectively, organizations need to build a robust data infrastructure that can handle high-speed data ingestion, processing, and analysis. They also need to invest in advanced analytical tools and platforms that allow for real-time data visualization and reporting.
Improving the Efficiency of Agents: Training, Monitoring, and Feedback
Improving agent performance is critical for organizations that rely on customer service and support teams. Effective training, monitoring, and feedback mechanisms are key components of optimizing agent performance and delivering exceptional customer experiences. Let's take a closer look at each of these aspects.
Training
Training plays a fundamental role in preparing operators to deliver effective and high-quality customer interactions. Comprehensive training programs should cover the following elements:
Product and service knowledge:

Agents need to have a thorough understanding of the organization's products or services to provide customers with accurate and relevant information.

Communication skills

: Agents should be trained in active listening, empathy, clear communication, and effective problem-solving techniques. These skills will allow agents to interact with customers professionally and meet their needs.

Tools and technology:

Agents should be trained in the tools and technologies used in customer support, such as CRM systems, ticketing systems, live chat software, and knowledge bases. Knowledge of these tools helps agents respond to customer queries quickly and efficiently.

Role-playing and simulations

: Hands-on practice through role-playing and simulations can help agents develop their skills in a safe and controlled environment. These activities allow agents to experience different customer behavior scenarios and refine their responses.

Ongoing training:

Customer service training should be a continuing process to keep agents up to date with new products, services, processes, and customer expectations. Continuous learning opportunities, such as seminars, webinars, and online courses, should be provided to improve the skills and knowledge of operators.
Monitoring
Monitoring agent performance is crucial for identifying strengths, weaknesses, and areas for improvement. Here are some key monitoring methods:
Call Monitoring:

Managers can listen to recorded or live customer calls to assess agent performance. They can evaluate factors such as communication skills, adherence to scripts or instructions, problem-solving skills, and compliance with company policies.

 

Assessment of Quality Assurance:

Organizations can implement a quality assurance program in which trained evaluators assess agent interactions based on predefined quality criteria. This process helps identify gaps, provide feedback, and measure overall performance.

Performance Indicators:

Tracking key performance indicators (KPIs) is essential for monitoring agent performance. Metrics such as average handle time, first contact resolution rate, customer satisfaction scores, and response time provide insight into individual and team performance.

Customer Feedback:

Obtaining feedback directly from customers through surveys, feedback forms, or follow-ups after an interaction allows organizations to evaluate the performance of operators from the customer's perspective. As a result, this feedback can help identify areas for improvement and emphasize exceptional service levels.   
Feedback and Coaching
Regular and constructive feedback is crucial for continuous improvement and motivation. Here are some strategies for providing effective feedback and coaching:
Regular Feedback Sessions:

Schedule one-on-one meetings with agents to discuss their performance, provide feedback on strengths and areas for improvement, and address any issues or challenges they may be facing.

Positive Reinforcement:

Recognize and reward agents for exceptional performance, such as handling difficult customers effectively or achieving high customer satisfaction scores. Positive reinforcement increases motivation and encourages agents to excel.

Targeted Coaching:

Provide one-on-one coaching sessions to help agents improve specific skills or overcome difficulties. Offer guidance, resources, and best practices to improve their performance and address any skill gaps.

Performance Improvement Plans:

In cases where agents consistently underperform, a performance improvement plan can be developed. This plan outlines specific goals, objectives, and actions that will help agents achieve expected results.

Mutual Learning and Collaboration:

Encourage agents to share their experiences, best practices, and challenges with their peers. Foster a collaborative environment where agents can learn from each other as well as support their professional development.
Integration with CRM Systems: Seamless Access to Customer Information
Integration with customer relationship management (CRM) systems is crucial for organizations seeking seamless access to customer information and a single view of customer interactions. This option enables companies to gather customer data from various touchpoints and consolidate it into a central repository. This consolidation offers a comprehensive perspective on each customer's journey. This integration improves customer service, sales processes, and overall customer relationship management.
A Comprehensive View of the Customer:

Integrating CRM systems with other data sources, such as sales, marketing, and support platforms, allows organizations to collect and consolidate customer information in one place. This includes contact information, purchase history, communication preferences, support calls, and interactions across multiple channels (e.g., email, phone, and social media). Having a comprehensive view of the customer empowers teams to extract valuable insights regarding their behavior, preferences, and needs. This understanding enables personalized and targeted interactions to be tailored specifically to each customer.

Optimized Customer Service:

Integration with CRM facilitates efficient customer service by giving agents access to real-time customer information during interactions. When a customer reaches out, agents can quickly retrieve relevant data, previous interactions, and purchase history. This allows agents to offer personalized and contextually relevant assistance, resulting in faster problem resolution times and higher customer satisfaction. The integration also allows for automatic ticket creation and routing, ensuring that customer inquiries are handled efficiently by the appropriate teams or agents.

Improve Sales Processes:

Integration between CRM and sales systems allows for seamless management of leads and opportunities. Sales reps have access to customer profiles, recent activities, and buying patterns, which helps them tailor their sales proposals. With a complete view of the customer journey, sales teams can nurture leads, track progress, and close deals more efficiently. The integration also provides automatic data synchronization, ensuring that sales information is up-to-date and accurate.

Improve Marketing Campaigns:

Integrating CRM systems with marketing automation platforms allow organizations to run targeted and personalized marketing campaigns. Using customer data, including demographics, purchase history, and preferences, marketers can segment audiences and create personalized messages. The integration automatically synchronizes campaign results, such as email opens, clicks, and conversions, with the CRM system, enabling comprehensive campaign analysis and ROI measurement.

Effective Data Management:

Integration with CRM ensures data consistency and eliminates the need for manual data entry in multiple systems. Information entered or updated in one system is automatically synchronized between the integrated platforms, reducing the risk of duplicate or inconsistent data. Consequently, this saves time, minimizes errors, and ensures that accurate and up-to-date customer information is readily available to all teams.

Automation of Workflows:

Integrating your Nectar Desk account with CRM systems and other business applications allows you to automate workflow and increase productivity. For example, integration with email platforms allows you to track, synchronize, and archive email directly in the CRM system. Integration with calendar systems allows you to automatically schedule meetings with clients and remind them. Such integrations simplify workflows, improve collaboration, and eliminate the need for manual data transfer between systems.
When integrating with CRM systems, organizations should consider the following key aspects:
Data Mapping and Synchronization:

Identify the data fields that need to be synchronized between the CRM system and other applications. Establish clear rules and mappings to ensure accurate and consistent data transfer.

API Integration:

Use APIs (application program interfaces) provided by your CRM system and other applications to seamlessly exchange data. APIs provide secure and efficient communication between systems.

Data Security and Confidentiality:

Implement strong security measures to protect customer data during integration. Ensure compliance with data privacy regulations and consider encryption, access control, and data anonymization where necessary.

Customization and Configuration:

Customize the integration to meet specific business requirements. Consider the customization options provided by the CRM system and other applications to align the integration with existing processes and workflows.

Scalability and Future-Proofing: Choose CRM and integration solutions that can scale your organization's growth. Consider future requirements and evaluate the flexibility and interoperability of integration options to meet changing needs.
Takeaways
Call center software is therefore playing a transformative role in improving customer experience and revolutionizing communication between businesses and their customers. With the advancement of technology, call centers are implementing innovative solutions that increase efficiency, optimize processes, and provide personalized service.
Additionally, call center software facilitates intelligent routing, ensuring that customers are routed to the most appropriate agent or department, maximizing first-call resolution, and minimizing wait times. Integration with CRM systems provides operators with a comprehensive picture of customer interactions, ensuring personalized service and a smooth transition between channels.
Experience the call center revolution with Nectar Desk! Our state-of-the-art software enables you to exceed expectations, deliver exceptional service, and make a lasting impression on your customers. Communicate seamlessly across the globe, transcend geographical boundaries, and deliver an unparalleled experience with our cloud-based platform. Rest assured that we prioritize the protection of your customer data with strong encryption and state-of-the-art security measures. Enhance your call center experience with Nectar Desk today!