Top Five Ways To Make The Most Of Your Ticketing System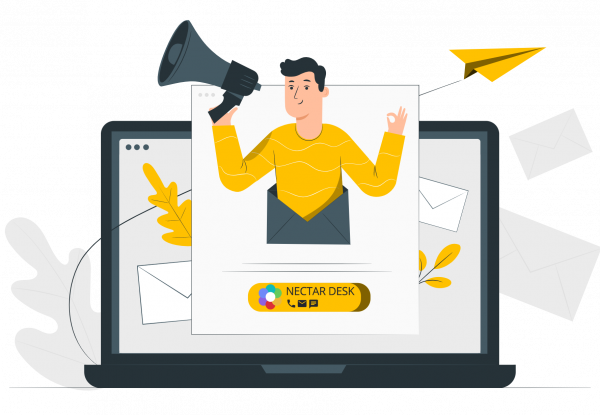 A ticketing system is an essential tool for any call center software. However, you need to be aware of how to use it effectively in your company. It can bring really outstanding results if you make the most of your solution and its features. There are too many ways to upgrade your business with the help of tickets to stay in the background. Emailing is a classic approach in marketing and sales and it is still worth taking into your consideration.
Nectar Desk is here to help you understand how the ticketing system works and what to do with it for better outcomes. Here we go🚀
What is a Ticketing System?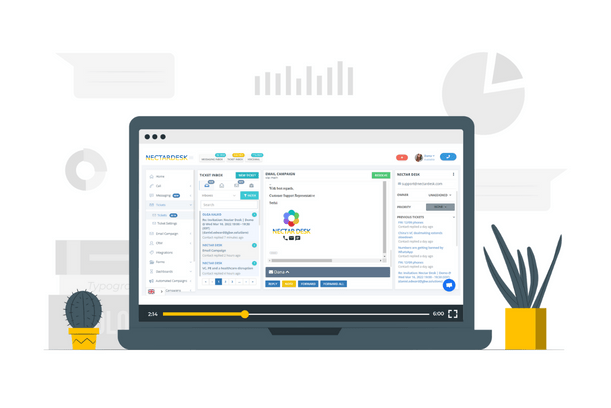 A ticketing system is a special tool for businesses to manage and track customer support requests. Emailing is one of the most popular messaging ways nowadays. If your call center software has such a feature, you will be able to provide seamless and impeccable customer service with ease. In general, modern ticketing software provides the ability to submit tickets through a variety of channels, such as email, phone, or online. Once a ticket is submitted by a customer, it will be routed to the appropriate agent who will handle it and answer. 
High-quality ticketing systems allow users to conveniently manage their tickets and easily collaborate with others. There are such handy tools as tracking the progress, notes, filters, and so on. It enables agents to work effectively and productively. Moreover, you can automate your workflows and speed up your issue resolution process if you use the automation feature.
Why Should You Use a Ticketing System?
With the right set of ticketing system best practices, you can automate manual tasks and consequently enhance agent productivity. Modern software will enable you to improve customer support and cross-departmental collaboration. For example, there are great tools that can allow contact centers to manage and track customer support requests more effectively. You will provide a faster and more accurate service due to high-quality ticketing software. 
Tickets with customer issues will be kept in one central repository. It will make it easier for another agent to provide input on the case and see all the important data about the clients and their past interactions. You can easily automate workflows to streamline processes and speed up resolutions. Agents can gather all information related to a customer question to provide an accurate and fast experience. As a result, customer satisfaction (CSTA) and first call resolution (FCR) will significantly increase and help to develop your business.
How Can You Improve The Management of Your Ticketing System? 
It goes without saying that ticketing is essential for seamless customer service. However, there are some easy and effective ways to improve your call center management. Nectar Desk has prepared the top five best practices to make the most of your ticketing system:
#1 Organize Your Tickets
You can easily have your tickets organized in your ticket inbox. Up-to-date ticketing solutions come with multiple default statuses such as unassigned tickets, resolved tickets, my tickets, and so on. It helps to work conveniently without wasting time on defining the type of emails. Agents will be able to quickly identify the stage of a ticket in its lifecycle due to having all customer data, priorities, tags, and labels in one central location. You can also integrate your account with a CRM solution in order to get even more details about your clients. So, it is necessary to have call center software with advanced functionality as well as an intuitive interface.
#2 Check Ticket History
It is much better to keep track of your inbound and outbound emails. Ticket history displays information about customers' recent tickets, their respective statuses, and the names of agents who were assigned the tasks. You can easily filter your emails and find a proper one by date or a priority just right in your ticket inbox.
With the help of ticket history, agents can gain necessary context about past or ongoing issues. For example, it will allow you to identify common problems of your customers and create something like knowledge base articles about them. Agents can even refer to past tickets that were generated for similar issues and seek necessary information. As a result, your brand delivers a high-quality and personalized experience.
#3 Try to Improve Ticket Response Time
If you wish to satisfy your audience, you must track the right metrics to estimate your customer service performance. Nobody wants to wait for an answer in the queue for a long time. Ticket response time plays an important role in customer satisfaction. Tracking this metric from time to time will help you to identify the weaknesses of the issue resolution process and to improve the experience your company delivers. If you have any problems with ticket response time, you can easily improve it with the help of email templates or other automation.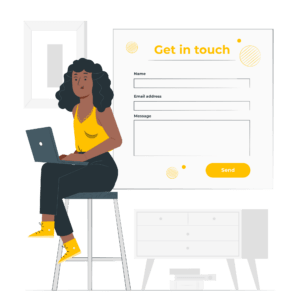 #4 Create Email Templates
You can save an avalanche of time and enhance productivity by creating email templates. It is a kind of canned response for quick answers. This feature will give you more time to make up a catchy design for your ticket. There are many options such as images, buttons, videos, social links, and much more. Email templates can be used for your email campaigns. It is necessary to do your best if you want to impress your audience. 
Additionally, you can create a basic outline from which your agents will draft their message and respond to customers faster. When prospective clients leave a request for getting in touch, they will be delighted to get an answer in a few moments and not wait for a long time. They will not cool off and will keep the interest in your product. Moreover, if you have response templates, you can ensure all your team members do not miss out on including any important information.
#5 Utilize Email Campaigns
Emailing is one of the most popular selling strategies as it allows one to reach an avalanche of prospective costumes. If your solution maintains the ticketing feature, you should use email campaigns in your marketing and selling processes. It's a well-known fact that email marketing is the perfect way of building customer relationships to help you generate leads and sales. Your main task here is to create catchy content and build your target email list in accordance with your goals. Then your ticketing system will make people hear about how much your brand is amazing.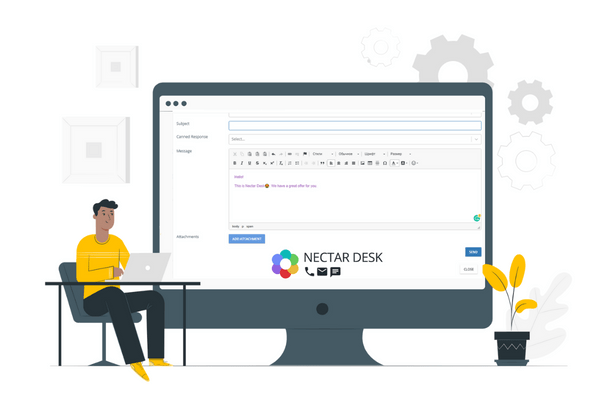 Takeaways
Therefore, it is high time to summarize. A ticketing system is a great tool for any business to manage and track customer support requests with ease. There is no need to be a tech guru or IT expert if you want to make the most of your ticketing tool. You should try to use as many advanced functions for organizing and keeping your tickets. It is also possible to create catchy email campaigns that will help you to sell your product or service. You can easily check how effective you are at emailing marketing by keeping track of customer satisfaction (CSTA) and ticket response time.