Top Eight Practical Tips For Clever Messaging Marketing
Nowadays, marketers are lucky to have numerous strategies and approaches to boost sales and build strong brand awareness. Messaging marketing is one of the most popular and effective digital forms. It enhances deep personalization, bigger traction as well as huge opportunities to grow your business. Sometimes people become fed up with advertisements in emails or social media and they may switch off notifications. Text messages will significantly increase the chances of being heard. Let's dive into the anatomy of clever messaging and the best strategies to catch as much attention as possible.
The Anatomy of Text Message Marketing
Messaging marketing is the ongoing process of communicating between businesses and customers. You can use it for news, updates, sales, promotion, or any other relevant information to your clients via text messages on their mobile devices. SMS (short message service) is a really convenient and efficient type of digital marketing. Experts estimate its open rate to be about 98%. You can deliver bulk messages to thousands of people directly to their phones. 
In order to start a text message marketing campaign, you need to have a database consisting of your customers' names, cell phone numbers, and other information. It will be better if you have a CRM integration as well. Some additional information, such as geographic region, customer categories, and customer interests, will help you to track the sales process and target a new audience. The key point here is that SMS marketing is opt-in and it requires contacts to subscribe. 
Text messaging is an extremely easy way to reach customers globally. You can send SMS in real-time and be sure that your existing contacts will receive it directly on their screens. It takes only some effort to create catchy content and run a campaign. However, there is a huge need to make your marketing methods to be legal and structured. It often happens that promotion messages are considered to be spam. You can avoid it if you understand the tweaks of digital marketing and utilize the best strategies for clever messaging.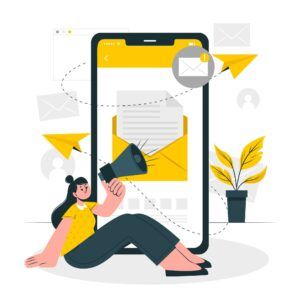 The Advantages of Messaging in Marketing
The main advantage of messaging marketing is that you can build brand awareness on a more personal level. Experts claim that SMS lets people feel that your business is more accessible. It is a great option to provide engagement for both your company and customers. For example, you can welcome new clients, confirm, cancel, or reschedule appointments via nice short text messages. SMS is a versatile way to promote your business. 
Secondly, it goes without saying that you will have high deliverability and open rates. Messages are much more likely to be read than emails. More and more people are using their phones daily for shopping and browsing. You should remember about a mobile-friendly form of marketing. It will enable you to reach a wider demographic and take your brand to the global market. Moreover, SMS campaigns are cost-effective and have low competition. The majority of brands still don't take advantage of messaging. There is much space to stand out and catch the attention of prospects. 
Useful Tips For Your Successful Messaging Campaign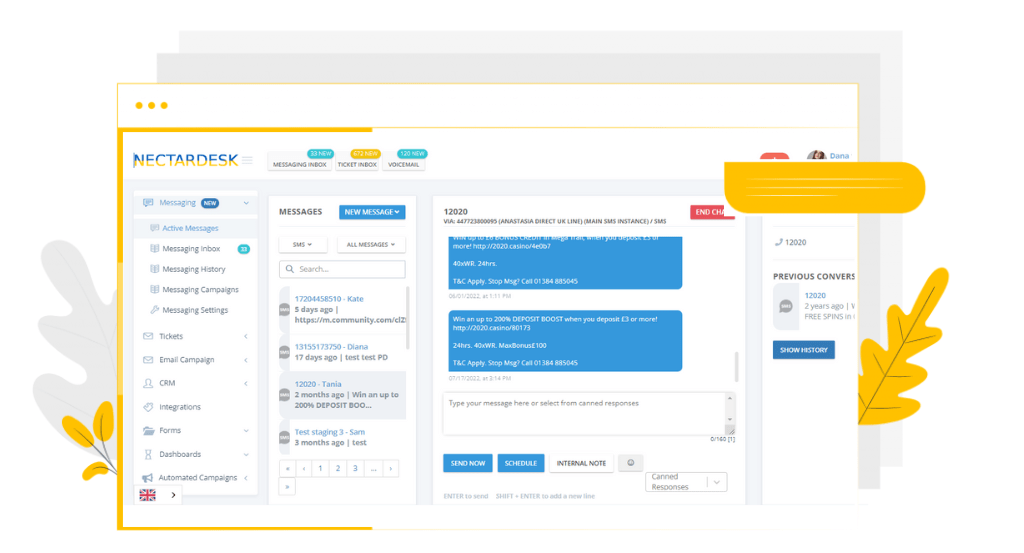 So, it is high time to learn how to make your messaging campaign successful. Short text messages can bring you outstanding results. However, you should not send bulk SMS to thousands of contacts without a clear premise. Nectar Desk has prepared the top eight practical tips for clever messaging with your clients. 
#1 Keep your text messages brief and weighty
Usually, you have only 160 characters in order to make your SMS catchy. If you want to grab the attention of your clients and prospects, you need to send short and simple messages with a straightforward aim. Users will not read lengthy texts during their busy days. It means you should define what exactly you want to say and organize it in a nice short message.
#2 Stay cool with numbers
Bombarding your contacts is never a good idea. You should not overload users with numerous messages. Otherwise, they will just ignore the text and send it to the spam folder. There are a lot of ways to fix this problem. If you use an up-to-date call center solution, you can make the most of its advanced features. For example, it is possible to create your text message marketing campaign by scheduling texts only when necessary and limiting how many you send to a specific number of customers.
#3 Send SMS at the appropriate time
Your customers and prospects will hate receiving SMS at night. You should make sure that you send messages at the appropriate time. It is possible to configure business hours for your messaging campaigns. Some simple steps will keep the reputation of your brand and make your conversations more comfortable. Users may feel confused and find your company unprofessional if you send SMS at random hours.
#4 Award your clients with discount codes
Now let`s talk about the direct ways to use messaging marketing. Firstly, it provides deep personalizations for your clients. You can share exclusive discount codes with your most loyal customers. Many brands use this approach and claim that it is pretty effective. Prospects can also get some bonuses for their first purchases via short text messages. It is one of the most efficient ways to catch the attention of consumers.
#5 Send abandoned cart reminders
Additionally, you can send small reminders to your clients about their abandoned carts. It is a great way to show how you take care of your customers and that you appreciate each of them. According to the statistics, shops with abandoned cart reminders have higher sales and better outcomes. Sometimes it is a friendly short message that will help to make the final decision about making a purchase. 
#6 Promote your blog
For example, if you have a blog on your website, you can promote new content via SMS. More people will see it and you get more attention to your product or service. A CRM base will be a real helper to make users know about your new posts and articles. Texting can double visitors of your website or accounts on social media platforms.
#7 Ask for feedback
Messaging is also a good way to estimate the quality of the experience you deliver. It is very important o to measure satisfaction ratings in order to have an overview of your business. You can ask your customers for feedback in short messages. As a result, a small step, that can be done in a few clicks, will bring you a lot of valuable information.
#8 Offer an option to unsubscribe 
You should not forget about making your customers comfortable with your brand. It will not bring you great results if you send bulk messages that will be blocked or left in spam. There should be an option to provide an unsubscribe link for users to opt out if they want to. They can stop receiving promotional SMS by replying to your message with "STOP" as well. However, your task is to make your audience sign up for your texts and stay with you as long as possible.
Takeaways
So, messaging marketing is definitely worth your attention. It is a great way to promote your business due to its high open rates, cost-effectiveness, and personalization. You can send messages with news, updates, sales, promotion, or any other relevant information to your customers. The key point is to keep them short but weighty. It is possible to easily configure your messaging campaign up to the goals of your business if you use an up-to-date call center solution.