Top Customer Service Trends in 2023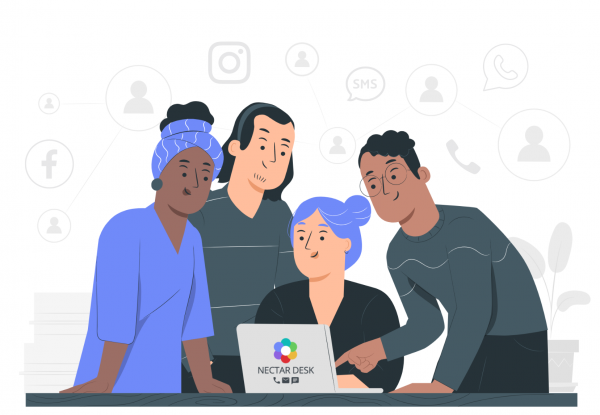 Customer Service is a key point that will define the success of your business. There are many competitive B2B and B2C companies on the market. You need to deliver an impeccable experience to stand out and attract new customers. It is not so difficult if you are well aware of brand-new technological advances and some marketing tricks. So, Nectar Desk is here for you to explore top customer service trends to follow in 2023🌟
The Importance of a Modern Customer Service Strategy
A customer service strategy stands for a combination of emerging technology, tools as well as approaches you use to deliver effective experiences. If you have a poor quality system and assistance in your company, you can easily sink your business. It makes a well-managed customer service strategy a must-have to think about if we consider growth and development. Sometimes satisfied people can bring even more prospects than marketing ads. 
Moreover, it is a constantly developing field that requires updates and enhancements. The best principle for a good experience in 2023 will be customer service anytime, anywhere across various channels. Your company had better provide seamless touchpoints and automation to streamline the multiple support channels under one platform. This way will help to reach and engage more customers.
Top Trends For Customer Service and Support in 2023
#1 Bright Personalization
Firstly, you need to remember about personalization when communicating with your clients. This approach has been a very popular trend recently and continues to be topical in 2023. People like products, goods, and services that are personalized. This thing makes them feel special and enjoy the brand more. It is high time to move from treating people as numbers to treating them as people. Why not try it in your future email campaigns or cold calling?
However, this point requires a lot of data and deep knowledge of your audience. Modern technology allows you to deliver personalized experiences with ease. For example, a good CRM database will help to define the most loyal customers and awards them with special promotions or discounts. You can become a real friend to your clients. It is a nice idea to keep their purchasing history as well as track customer journeys. A support team will be able to solve the problems more quickly. You will also be able to analyze your communication and offer more reasonable products or services for your customers.
#2 Omnichannel Call Center Software
There is an avalanche of different high-quality solutions with advanced functionality. The Nectar Desk team highly recommends using omnichannel call center software in 2023. It will help you to engage a much bigger audience and develop your business. You can meet the demands of even the most capricious prospects and invert them into loyal customers due to a seamless communication experience. 
If you provide different channels for communication with your customers, you can significantly boost your outcomes. Your prospects and customers will try to reach you via phone, email, chat, and social media. Bouncing around from one channel to another can be really irritating. People may give up communication with you. However, an omnichannel solution provides great service for both clients and agents in your call center. Your workers see all messages and calls under one single interface. They will be able to answer each client via his preferable channel just in a few seconds. 
Do you make the most of technology resources? It is possible to perform even better. The majority of up-to-date call center software offers great integrations with CRM, ERP,  or Marketing Automation tools. You can double your opportunities and deliver impeccable customer service.
#3 Automation For Better Experience
Modern IT companies offer more and more convenient solutions for contact centers. One of the most popular features is Automation. It allows users to save time and get better outcomes significantly. For example, automatic call distribution (ACD) automatically routes calls to the next available agent. Agents handle a higher volume of calls and increase their efficiency. 
You can also configure automated requests for callbacks or canned responses.  This option will get rid of a monkey job and provide impeccable service. It is highly efficient for those, who appreciate direct communication with their clients. And for those who want to keep them informed about all the details of their business right after some changes were made. That`s why people choose call center software with advanced functions such as automation form, ACD, etc.  
#4 Friendly Real-time Assistance
If you want to be superior at customer support, you definitely need to provide real-time assistance. It is a great way to demonstrate that you take care of your clients. Moreover, your employees should have been taught how to be polite and friendly. Many companies have started less formal communication with their clients. Your brand can become a real favorite one due to the good work of the support team. It is extremely important to have convenient touchpoints and seamless communication in real time. A quick and easy solution to a problem will sort out negative impressions. Your satisfied customers will recommend your company to their friends and acquaintances. So, there is one more need for up-to-date omnichannel call center software for fast reaction to clients' issues.
#5 Social Media Platforms
SMM (social media marketing) is still extremely popular among different businesses. For instance, Instagram business accounts may play a huge role in the overall success as well as improve profit. You can easily increase traffic, find your clients, and build brand awareness. Marketing statistics show that Instagram can bring you a lot of impulse customers that may be converted into loyal ones. The platform has great functionality for advertising and promotion as well as communication with customers. It is much more convenient to reach your company via Direct messages than to surf the Internet in order to find contact details. 
There are many variants of social media platforms such as Facebook, Telegram, Instagram, WhatsApp, and so on. Modern call center solutions allow users to handle them under one single interface. Just imagine the size of customer volume in your company, if you make most of marketing and technology at the same time.  
#6 Amazing UX Design
Last but not least, you should take care of the design of your website. Does it look catchy and attractive? People will spend more time with your website and enjoy using it. This point is worth inventing money and effort. There are many variants of styles to impress your customers. The UX design is a kind of representative that will meet your prospects. You should think over its interface to be pleasant and convenient.
For example, you can add a live chat and provide one more touchpoint. It has become a real trend in customer support due to its convenience and simplicity. You can choose the colors that will match your website style best. Don`t forget about the friendly welcome message which will be displayed once the website visitor is starting the conversation.
Takeaways
Therefore, you should follow new trends in customer service in order to keep pace. Old-fashioned strategies may sink your business. On the other hand, thoughtful approaches and modern technology will take your business to the next level. The best variant for 2023 is omnichannel call center software that can meet your demands as well as your clients`ones. It will enable you to provide friendly real-time assistance, use social media, and make the most of advanced technology. The key secret of any successful company is constant development and update. So, it is high time to sit down, analyze, and build the best strategy for your company in accordance with top customer service trends in 2023.