Release 3.4.5 (17/06/2022)
Nectar Desk keeps developing for our clients to be the best cloud-based solution for your call center. In Release 3.4.5 you'll get to know about the last enhancements in Live Chat, Settings, Automations, and the Ticketing system. We have worked really hard and with love for you in order to present new options and improvements:
Default Settings for Live Chat Instance Creation
Email Notification About Inbound SMS
Permission to View Analytics For a Normal User
Unread Notifications Badges
Automatically Block Incoming Calls
New Design For Closed and Reopen Tickets
Ticket Filters Update
Let`s go
Automatically Block Incoming Calls
We have developed a handy automated option for incoming calls.
From now you can enable a new action Block Incoming Calls that would be triggered after disposition selection. Once you set it up, the numbers with selected disposition will be blocked automatically.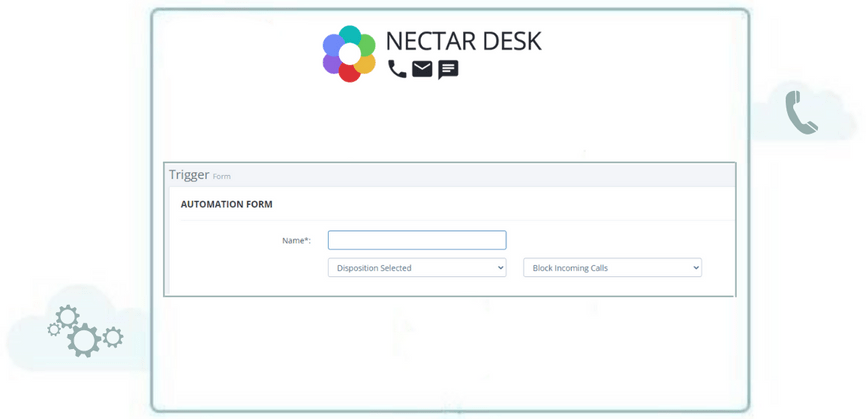 You can easily configure the Block Incoming Calls action ender the Settings → Automations section in your Nectar Desk account.
New Design For Closed and Reopen Tickets
Your Nectar Desk account will have a new design for the Tickets section.
When a ticket is getting closed, there is the Closed badge on the top. It means that the ticket was resolved and some options have been limited.
We have added the Reopen button at the bottom. This button will open your ticket again and make its options available.
You can have one more option to work with ease in your Nectar Desk account.
Ticket Filters Update 
We have also updated some filters for the Ticketing system. It becomes much more convenient to find a proper ticket in your inbox.
There is an option Sort By that allows to display Oldest tickets first or Newest tickets first. 
It takes a few clicks to select the necessary filters and work further in your Nectar Desk account. You can also RESET FILTER at the bottom of this window.
Default Settings for Live Chat Instance Creation
Nectar Desk Live Chat is an extremely popular feature among our clients. We decided to make it more effective and user-friendly. From now, there is a preselected and prebuilt setup for Live Chat Instance creation. 
Once you press Add New Live Chat Instance, you see some specific set of features that can be enabled with the default text. It is still easy to configure up to your business in your Nectar Desk Account. You can choose chat window styles and type your welcome message.  
It is high time to create your own style and be remarkable!
Email Notification About Inbound SMS
Nectar Desk email notifications for new voicemails or calls are said to be very handy for customers during their busy working days. We have added alerts about new Inbound SMS as well.
!The email notification will be sent for new conversations right away. 
!For active conversations, if the message is not read within 5 minutes.
You can find this option in the Instances section in your Nectar Desk account.
Permission to View Analytics For a Normal User
The Agent Analytics Page used to be available only for Supervisors and Admins. However, the Nectar Desk team believes that metrics are crucial for effective working performance and growth. We have added an option to Permissions to show the Analytics to the normal users, so it is possible to estimate strong and weak points for all agents of your call center.
You can configure access to analytics in the Permissions page of the Settings section in your Nectar Desk account. It takes just a few clicks, but remember to Save!
Normal users will be able to view information about their productivity such as All calls, Callbacks, Hourly, Answering Time, and Agent Dispositions under the Call section.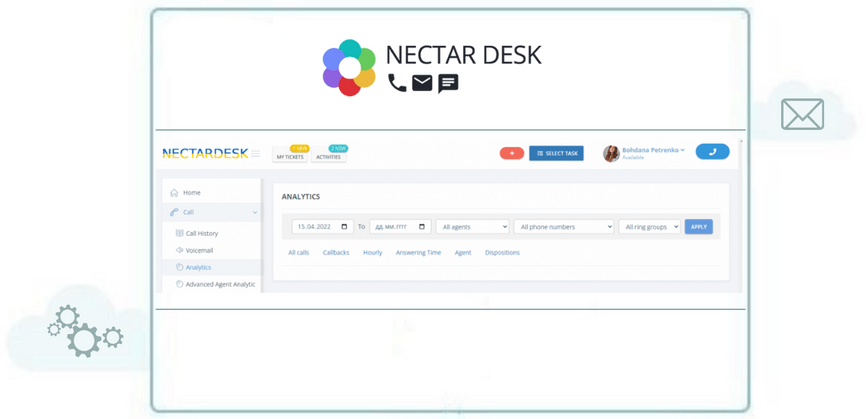 Unread Notifications Badges
The Nectar Desk team also added visible notifications on unread replies under tickets. The counter will represent the number of your unread replies. It is convenient as you can easily notice new messages in your Ticket Inbox.
It allows to check out all NEW tickets and make sure that each customer receives a reply.
That's it for Release 3.4.5, but we've already started working on our next release. Nectar Desk tries hard in order to keep you and your agents convenient. Feel free to contact our team via Live Chat with any questions you have