Release 3.2.5 (07.08.2021)
Facebook and WhatsApp channels in Nectar Desk to keep in touch with customers, advanced notifications to not to lose sight of new messages, improved setup of the periodic message, dispositioned contacts report, better navigation in Tickets canned responses, and more are what Nectar Desk has prepared for you in our Release 3.2.5.
Stay on the trend, you can't miss it.
Expanded Interval between Call Attempts in Automated Campaign
An 'Ongoing Campaign' option which you can enable in Nectar Desk Automated Call Campaign, lets you set up the number of Call Attempts to the customer and intervals between them.
We've improved this option and expanded the minimum interval between calls from 2 days to 31 days so our system would dial the customer again after the required time period.
Added Messaging Inbox Notifications
We continue improving our Messaging Tab! Now, when you get a new message – you'll get notifications on the top bar and on the sidebar too.
Moreover, you'll get notifications about new messages in active conversations while you are browsing on other staff.
Separate Facebook Instances
It's now possible to handle your Facebook conversations directly from the Nectar Desk with our Facebook Business integration. 
If you have multiple Business Facebook accounts – we will support all of them in our system so you could keep in touch with your clients directly from Nectar Desk.
Moreover, you can always assign an account to a specific agent so only this particular agent could see the related data and handle the conversations with clients.
Separate WhatsApp Instances
The same works for our WhatsApp integration. Agents from your company's different departments may be assigned to different instances to work with different WhatsApp numbers. So if the agent isn't assigned to the particular WhatsApp instance, he won't be able to send or receive WhatsApp messages and see the associated data in messaging history or the other agents' active conversations. 
Improved Setup of Periodic Message
Call Queue feature is a great way to organize your incoming calls. And in Nectar Desk it's possible to completely customize it. In release 3.2.5, we improved the logic of Periodic Message in the Call Queue – now it's even more customizable! Set the time when to play the message and add more if you need.
Improved Sound Notification for Call Queue
As we said above, Call Queue is a great feature for your Call Center. Furthermore, it's possible to turn on the option 'play sound when the call reaches the queue at Nectar Desk. It helps to manage the calls and track incoming activity.
Before the release, all agents, who were and were not on calls, heard this sound. We've found it a little bit inconvenient, so now in General Settings, you can find one more option 'Play sound notification only for agents who are not handling calls?'.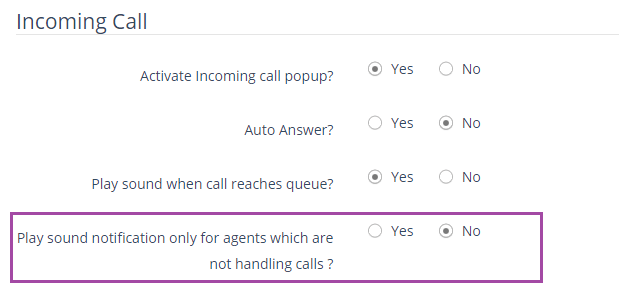 Added Send SMS button in the Calling Campaign
In this release, we've added the Send SMS button to the Calling Campaigns section. Now it becomes easier to send follow-up messages, reminders, or some details via SMS without redirecting to other tabs.
Dispositioned Contacts Report
Nectar Desk provides a wide range of different types of reports. You can easily track everything that's going on in your Nectar Desk account. If you'd like to get the list of contacts with specified disposition, you can download it from the Reports tab. We improved this option and now it's possible to choose multiple dispositions for dispositioned contacts reports.
*hold CTRL on your keyboard to choose multiple dispositions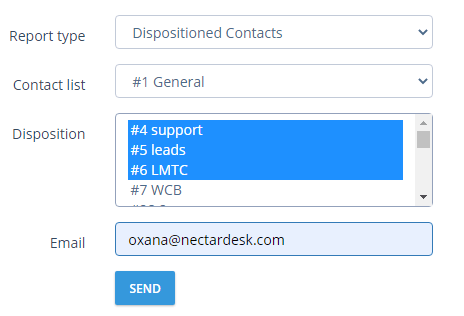 Added Search Bar in Ticket Canned Responses
Ticket Canned responses can be very helpful when you get lots of tickets every day. Furthermore, at Nectar Desk you can create as many Canned Responses as you'd like to. We decided to make it more convenient for searching and added a search bar so you won't get lost among them. Search your Canned responses by title, subject, and ID.
Follow our updates and we will do our best to improve our service for you 😉