Nowadays, emails are a fast and convenient method of communication. In an office environment moving through the communication process should reduce the time it takes to communicate as compared to other forms of communication and increase productivity because it reduces the time that would normally be spent in face-to-face meetings or telephone calls. That's the key factor of the increasing popularity of emails all over the world.
Among the other email marketing advantages are the following:
Emails are delivered extremely fast 

Emails can be sent 24 hours a day, 365 days a year

Webmail means emails can be sent and received from any computer, anywhere in the world, that has an 

internet connection

Cheap – at Nectar Desk emails are

absolutely free

Emails can be sent to one person or several people
The benefits of emails make this communication channel extremely popular among our users, so we decided to make them more advanced. In what way? Let us come clean and tell you about our new email templates.

Thanks to our integration with Stripo, Nectar Desk users can now create various email templates inside their Nectar account to send out the email campaign.
It's possible to create emails adding various content to it, such as images, text, buttons, YouTube or Vimeo videos, social network links

, banners, etc so your messages become fancier.
Let's just agree – the email containing only text doesn't usually get that interest that emails with eye-catching pictures do.
How to create an email template?
Thanks to the user-friendly interface of the email builder, the procedure of creating the email is as easy as ABC.
You can choose different structures, blocks, and pre-built modules and easily add them to your template:
Moreover, you can add buttons that will redirect your customers to the required website to get more information: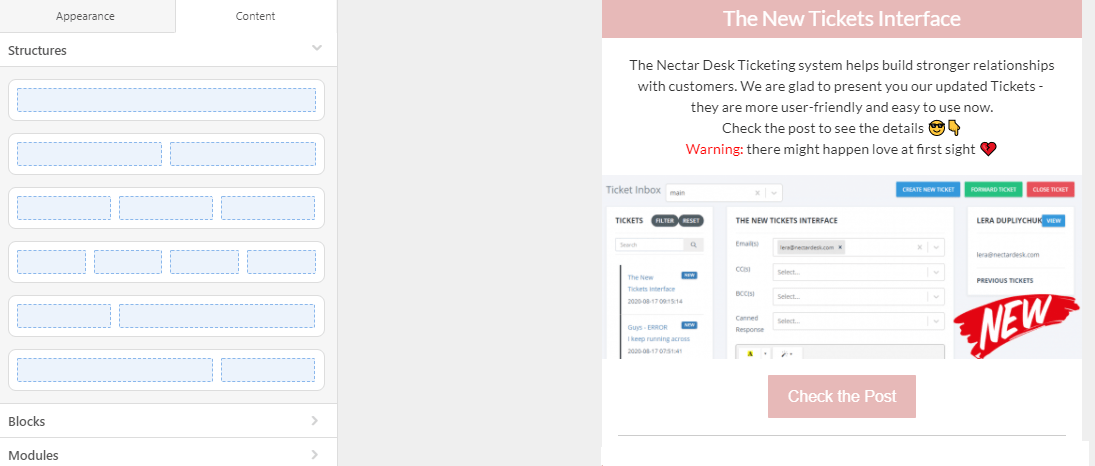 Once the template is created, you can test it, sending to your personal email address to see it from your customer's perspective:

We do hope the Nectar Desk integration with Stripo will help you to build the best emails ever!
If you want to test the feature and send out your own email campaign, request a demo
with our team and we'll be glad to help out 🙂