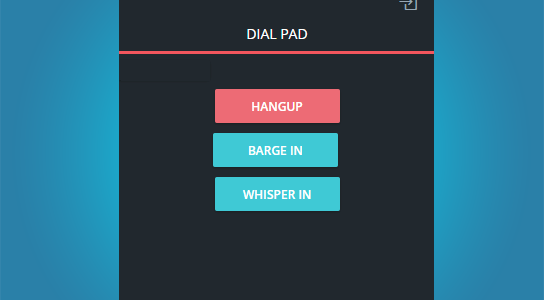 Call Barging
 Jump on "out of control" conversation
 Join conversations for sales or support purposes
While listening in on a call you have the ability to interupt the call while keeping everyone on the line. You can use this feature to help agents in training that are unable to answer questions or that are unsure where to look for information or what to say to your customer. You can also use call barging to help an angry customer immediatey if you are listening in on a call hopefully preventing a situation from escalating.
Call barging is a call focus programming highlight that enables you to adjust active calls without the caller or call focus specialist knowing, known as "noiseless call observing," and after entering the call to speak with both the operator and the caller, known as "call barging."
This component is perfect for administrators looking to tailor standard confirmation, call focus operator preparing, and general proceedings of call focus.
Track
Nectar Desk's call focus programming enables people to bounce into phone calls and aid call center professional. This boosts standards and strengthens consumer loyalty as you can settle issues without the call center system rerouting the call. Maximize and assure your customers with optimal assistance through Nectar Desk.
---
Prepare
To prepare call center specialists through the contact center software your directors ought to screen active calls and burst in on calls to speak with users and operators when necessary. This will speed up preparation and guarantee that your group gets the bolster they require precisely when they need it. You can train your employees to be the best call center agents they can become.
---
Programming
Callers are not a fan of being redirected, especially on if they are dialing in regard to an issue. Reduce calls raised to administration by utilizing call focus programming with call barging. Combating surging calls using simple methods will help settle calls and enhance buyer fulfillment.
---
Assistance
Observe calls and monitor interactions of VIP callers connecting with your organization. Participate in a call to get a better return on the circumstances if your call center struggles or your VIP consumers are not administered properly. In this way, you can boost fulfillment and loyalty among your subscribers.
---
Workers
Dealing with a virtual group of call center specialists can be troublesome without cloud-based contact center software with call barging. This function enables you to effectively hear and join active calls. This call center programming highlight will help manage every one of your virtual workers and keep your scattered group working effectively.
---