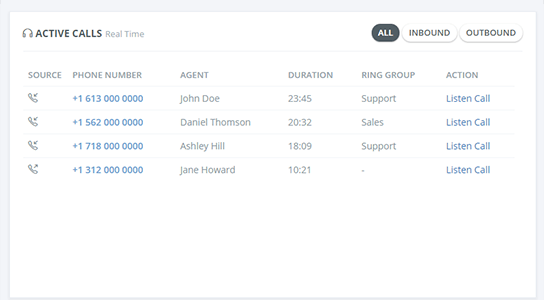 Unlimited Concurrent Calls
Track Historic Call Activity for your Contacts
Call Recordings for all the communications with the Contact
Screen Pop with CRM data on Inbound Calls
Add Notes and Modify Contact while on the call
Lessen the volume of blocked calls and guarantee that your group can make and get the same quantity of calls as essential with boundless concurrent calls. Everyone, including you and your company, will benefit from the use of Nectar Desk. Utilize your resources to the fullest by limiting the influx of concurrent calls and blocked calls.
Nectar Desk does not put a breaking point on the speed of receiving and placing phone calls to any phone number. This feature is set up to empower your group to grow without interfering with call excellence.
---
Call Volume
Slow down blocked calls using Nectar Desk with boundless simultaneous calls and blocked calls will not intercept your company performance. This function guarantees that you can grow easily without jeopardizing clients.
Reap maximum customers and services benefits without paying a hefty price to ensure consistency and efficiency among your team. In the process, save time, money and avoid blocked calls problems.
---
Growth and quality
Nectar Desk enables you to exchange an infinite number of concurrent calls without adversely affecting call standard. Despite multiple telephones functioning at the same time, all calls will go smoothly taking the stress away from issues emerging when calling influx increments amid pinnacle periods. With this growth and standard will go hand in hand and growth will never deter standard.
---
Hunting Line
Instead of a series of numbers to meet your call inflow needs, a hunting line is enough to aptly route all your calls. If you want variation, breakdown numbers by departments internally to promote security. One number will be enough to send the caller to necessary place to get what they need and want. With this, the standard of your calls and the issues of calls being blocked with a growth in calls is a non-issue.
---