Why Call Recordings are Great for Marketing Campaigns
Sales personnel at all times need to have metrics that they use to roll out effective campaigns. Having useful insights about leads before putting up strategies to pitch your brand to them is vital. Once you call a client, the call is over! If you've no method to access the mood and critical things talked about in every conversation, then you've slim chances of converting any lead.
This is where call recording chip in. It is a contact center software feature that enables sales assistants and managers to record their conversations with prospects. We've highlighted some few reasons why your sales team cannot do without call recording.
Call Recording as a Contact Center Software Workforce Management Tool
Refining Agents' Skills Through Training
Often, as a sales captain, you've to put your agents through the mill to steer your marketing ship to the right destination. Call records contain vital details that show where your team is excelling and where they are dropping points.  By accessing the audio files, as a manager, you can get great insights on how customers are greeted, how reps sell the brand name, how reps articulate prospect's issues and if your crew adheres to phone etiquette.
Don't use call recordings to reprimand your team but to build them. Present to them tutorials and show them how they would have handled some issues better. When recruiting new staff, you don't have to start off from scratch as you can train them using the audio files that you've recorded in your contact center software. Point out the do's and don'ts.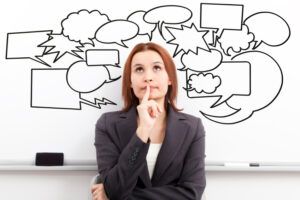 Performance Assessment
Call recordings serve two purposes: assessing individual employee performance and evaluating the telemarketing performance of your sales strategy. You can use call records to streamline your marketing approach as you get to analyze critically what the customer demands from your brand.
On the other hand, when conducting performance appraisals, call recordings come as a robust contact center software solution that allows you to assess the performance of each agent.
Talking of the workforce, cloud solutions in your call center allows you to hire virtual reps who can work anywhere in the world to sell your brand. Let's see how the cloud can augment with the call recording capabilities to increase ROI.
Call Recordings for Your Cloud Contact Center Software
If you want to get the most out of your call records, you need to consider the power of the cloud systems. Here are some ways you can optimize your call recordings by utilizing the capabilities of the cloud:
Save vital call records in the cloud (for data recovery and disaster mitigation)
Put data obtain from the files into your reporting tools. Then send the results and forecasts to all your agents including the virtual assistants
After in-depth analysis, use your IVR to route specific calls to right sales groups for further review
Assimilate the data you obtain from the records with those obtained in your cloud omnichannel systems
The cloud also allows you to get real-time call recordings of all conversations regardless of the location of your agents
Combining the power of the cloud with the granular customer details obtained through call records enables you to tailor your products to the target market. Liaise with us at Nectar Desk so that we can help set up everything from scratch. We can as well add new features to your call center that will help you close more leads. We're one of the leading contact center software companies providing flexible, reliable and affordable solutions for every business. Feel free to have a chat with us.