Best Tools For Cooperation Between Sales and Marketing Teams in Your Call Center
Sales and marketing teams' cooperation is a cornerstone of significant outcomes and working harmony in any business. Despite the fact that they are two different departments, it is vital to synchronize their tasks and views on the strategies of your call center. It is not unheard of misalignment or even competition between sales and marketing teams. According to recent research, it can cost more than 10% of B2B revenue each year. If you want to get better results and profit, you need to create a well-configured working process, convenient conditions, and strong partnerships between your employees. Below you can find practical tips on how to improve sales and marketing collaboration and avoid common pitfalls in their communication due to modern technologies.
What are the Sales and Marketing Teams` Roles in Call Centers?
Firstly, it is necessary to clearly understand the role of each department in the call center. The staff should do their functions with the respect to others. All members of sales and marketing teams are equally important including representatives, managers, experts, and executives. They need to be well trained and provided with high-quality tools to work effectively.
The main tasks of the sales team are to get in contact and turn prospects into customers, plan sales workflow, increase converting sales as well as conversion rates. It requires constant improvement in sales skills, following up on referrals, and qualifying leads. They do a large part to develop and grow the business. When people call your contact center, they expect to get impeccable service. So, your recruiters should find really skilled and polite agents. They will be the face of your company.
Besides, the marketing team makes its own contribution to overall outcomes. They have a great impact on the whole process of advertising and selling. There is a variety of distinct roles such as data analysts, SEO strategists, project managers, and so on. Marketers run social media campaigns and coordinate promotions in accordance with business objectives. One of their most important tasks is to create catchy content for the sales funnel to get the attention of prospects and keep the interest of loyal clients. If you have good high professionals in marketing, your call center will get much more chances to grow. There is a great need for efficient B2B strategies and SEO optimization. The world should hear about the awesome service of your call center due to your market team.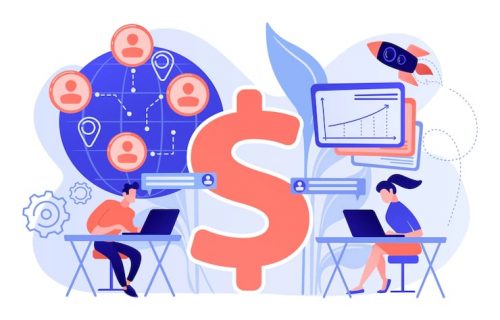 Common Mistakes in Sales and Marketing Synchronization
It becomes easy to lose costumes because they have a great range of choices. Nowadays, you need to do your best to stay on the top. There is no time for mistakes in the working process of any department. If you bring sales and marketing teams into alignment, your business will thrive with ease. Let`s have a look at three common mistakes you may make in sales and marketing teams synchronization.
A Lack of Communication Between Two Departments
Your employees may just be unaware of their powerful roles in the system of the call center. It can cause unhealthy competition and subsequently resistance to working as one big team. The leads of both sales and marketing departments should set shared goals that will be understandable to all members. A lack of communication can frustrate staff because of isolation. If sales reps and marketers work separately, misalignment is likely to restrain great ideas for growth. Try to organize your management with opportunities for facile cooperation between workers. There are many ways listed above to fix this problem in a few steps.
Insights Ignoring During Planning Strategies
Another aggravating factor is carrying out work on their own without insights from other departments. Sales and marketing teams have definitely an avalanche of valuable knowledge. It would be much better to share ideas and create brand new tricks to catch prospects` attention. If sales representatives continue to use outdated materials, your call center is in danger of getting stuck in the past. Certainly, fresh marketing slicks should be created considering salespeople's knowledge. It is crucial to evaluate customers` feedback and market dynamics of any product or service. The more insights they get, the better decisions both teams can make.
Inability For Adaptation to Time Change 
Even if you have the best settlement of sales and marketing teams' cooperation, you need to keep pace with the changing world. Every day more and more trends and technologies are appearing. There are new strategies, different approaches, and most importantly software. Does your call center use an out-of-date platform for handling calls and emails? It can lead to the deceleration of productivity. Sales reps and marketing experts need handy tools to be able to collaborate and bring better results. It is hard to meet the demands of the modern world without flexibility and willingness to adapt yourself to time changes. Therefore, review your software and figure out how to make the most of technologies.
Tools That Make Sales and Marketing Teams Work in Harmony
There are plenty of well-designed solutions for call centers. It requires some time and consideration to choose the most suitable exactly for your company. First and foremost, think over functions and tools for the members of sales and marketing teams. The right system can help to align them in order to provide work in harmony. Useful digital technologies will develop the proficiency of each call center team. The best variant is to use cloud-based call software as it enhances a whole set of voice features. Here's a list of software tools and a short description of how you can use them to bring sales and marketing alignment.
CRM
Customer relationship management (CRM) is worth regular consideration and extensions. Your clients are the most important measure of your success. This database gives insights on driven-decision as you can heaven overview of interactions with customers. Leads get abilities to define the pros and cons of a call center. They easily track prospects through the sales cycle and strategize how to close sales faster. Then caller details will help to form profiles for target personas.
Analytics and Reports
Great insights are provided primarily by call center analytics. A sales team can share reports on important data with marketers. For example, they may use intuitive dashboards that show real-time information about agents' performance. It allows them to collaborate on strategies and get a much better effect. Try to find call center software that generates analytics and reports automatically. These features will save your time for other important tasks.
Scripts and Templates
Members of the marketing team very often turn to be real wizards in writing scripts for calls and templates for messaging campaigns. Due to knowledge of efficient strategies and eve phycology, they can create catchy content. Salespeople will have more meaningful conversations with prospects and customers. The call center with features for scripts and templates will significantly simplify collaboration between two departments. 
Activities
There is also a need for space to share activities. If your agents deal with hundreds of calls a day, they require to have an option for creating tasks at hand. Marketers will see what sales representatives need and complete it as fast as possible. For instance, it is imperative to renew an old script for outbound calls. Once the task is received, the marketing expert starts to complete it. The Activities feature is a really great way to improve alignment between both teams.
Four Tips to Improve Cooperation in Your Call Center
Your call center needs constant revision and development to stay on top as there are a lot of other competitors. It is possible to fix all problems if you are willing to work on them. Here you can find four practical tips on how to configure cooperation between salespeople and marketers with ease.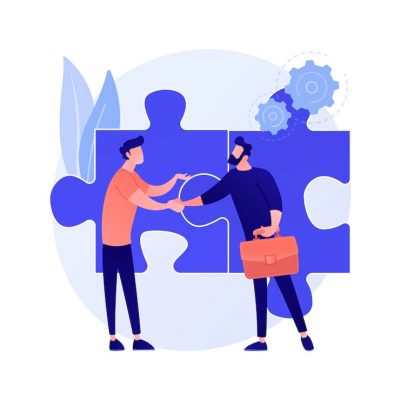 #1 Use the Same Digital Tools  
Cloud-based software with VoIP integrations is extremely convenient for marketing and sales workers. It allows using the same dashboards and tools for trouble-free collaboration. All employers get an overview of insights and important data metrics. Marketers can use feedback from sales to identify buying personas. It crucially aids to develop accurate customer profiles.
#2 Set and Review Common KPIs
Sales and marketing teams should review the same key performance indicators (KPIs). In this case, it will be much easier to estimate the work of both departments. You can start with simple defining common terms and acronyms such as key performance indicators (KPI), marketing qualified lead (MQL), bounce rate, click-through rate (CTR), or ideal customer profile (ICP).
#3 Define the Marketing and Sales Goals Together
Successful collaboration requires sales and marketing experts to set shared goals together. It goes without saying that they are two independent departments and have different duties. However, both teams are eager to give better results and increase their effectiveness. The outcomes of salespeople still depend on the research of marketing demands and prospects. Let`s have a look at the example with a product demo. Marketers will base lead needs and create segments to satisfy them. Whilst sales reps aim at delivering the demo particularly during the meeting. Their main task is to make sure that the presentation is informative and impressive. The knowledge of customers and amazing delivery of content will show much better the value in a product over the course of a demo.
#4 Organize Scheduled Regular Cross-functional Meetings
Shared team meetings will help you to achieve all tips listed above in a short time. If you gather all salespeople and marketing experts together in the same virtual or physical space, it is more likely to get an honest and dynamic discussion. Members of both teams will be able to express their opinions on how your call center should develop. Input from sales representatives and brainstorming can produce some ideas for sales campaigns, promotions, and content. Moreover, they will get a greater sense of ownership of promotional materials when they've helped develop them.
Let`s wrap it up! Teamwork is not so easy, but there are numerous ways to create all conditions for efficient cooperation. The best one is a two-way dialogue and centralizing communications for both sales and marketing teams. If you set up shared goals, it will bring much more benefits in a shorter time. The knowledge and insights of both teams will significantly improve the strategies and methods used in your call center. Additionally, the up-to-date solutions offer your numerous handy tools such as CRM, call recordings, scripts, and templates. These digital technologies will enhance facile alignment between sales and marketing departments.