5 Ways of Designing a Call Center Scheduling Software That Works
Most agent managers factor into account forecasting results and agent availability into their scheduling programs but the created modules doesn't always bring the desired results. Where are they going wrong? What's that tweak that's always slipping away? After years of experience of using call center scheduling software, we've highlighted five exclusive tips for you that you can use to get better results in your call center.
Reward and Maintain Crucial Talent
There is that person that you feel that if he/she quits, then the entire team crumbles to confusion. Use your software to rank the best agents and give them incentives to earn their loyalty. Common rating methods for agents include calls made per hour, number of special clients handled per day, number of disruptive activities caused, etc. Team up your best crew and use tools such as predictive dialers for them to engage directly with clients that contribute colossal perks to your business.
Setup Realistic Buffers for Shrinkage
Shrinkage can be defined in this case as the number of hours paid for not taking calls making an appointment call center scheduling software is of great importance. When seasonality and other factors determine the volume of inbound calls, shrinkage is inevitable. Well, you cannot evade this from happening, but you can minimize the number of lost minutes. While designing your schedule, you need to add more parameters and factor in breaks/lunch hours/meetings, etc. so that you can make reliable forecasts.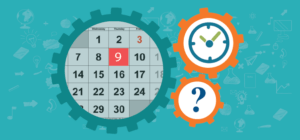 Be Strict and Acquiescent on Schedule Adherence
Designing a nifty schedule is one thing and ensuring that agents comply accordingly is another thing altogether. Assign projects via the project scheduling software and monitor their time of completion. Well, agents may finish the tasks assigned on time, but check the person who accomplished the task and conducted other vital activities such as following up with clients who dropped calls. Reward such agents. Use the software to create reports so that you can use to retrain you agents on the importance of adhering to the modules created.
Use Call Center Management Tools
When generating reports using the project scheduling software tools, ensure that logs generated are distributed to other software systems in the center. This's vital when your call center works mostly using routing systems. You need to know the skills of every agent and personalities. Burnout can take a toll on agents; so ensure that you can fuse your scheduling process with an efficient shift model (most models depends on the reports created by the scheduling software). Knowing individual skills may help you monitor agents easily and track their performance.
Provide Agents With Open Source Freeware Scheduling Tools
At times agents would need to swap shifts, but they don't have to deliver the requests directly to your physical workstation. Empower them by letting them know they can switch desks or swap shifts anytime they want so long as they indicate that on the call center scheduling software open source option. This option allows agents to change positions and shifts without following the tedious bureaucracies governing the workforce in your firm.
Scheduling isn't that easy, but with a reliable call center scheduling software, you save time and money. Nectar Desk call center scheduling software is here to carry you through the entire process. Contact us any time, any day for free support.