How to pick the best headsets for Nectar Desk
Headsets take a great part in the call center work. All we know that call quality directly depends on two factors – internet connection and the headset used. If you are looking for the best headset for either the office or home on Nectar Desk, here are our tips on how to choose the right one.
We advise you to take into consideration the next points:
Headsets for office or at-home use
Wired or wireless headsets
Headsets that can integrate with Nectar Desk
Wearing style
Headsets that are made for office or at-home use
When you are choosing the headset, the first thing you need to think about is where you are going to use it. If you are working in the office, where there are other employees who are talking certainly you need something with noise cancellation. Whether you are working from home or office, noise cancellation is the key to focus on whatever you are doing. For sure, most of us do not use the headset only for work staff. We listen to music, podcasts, and so forth. So the headset should be convenient for all your needs.
Wired or wireless headsets
One of the most important questions is a wired or wireless headset. Of course, firstly, it depends on your needs. On the one hand, there is a wired headset. It provides a stable connection and perfect full-strength signal. The battery never runs out. But you have to be tied to your device. On the other hand, a wireless headset provides you with freedom of movement. Also, most modern Bluetooth headsets have the ability to switch your PC and smartphone as well.
Headsets that can integrate with Nectar Desk
Any USB headset will technically work with Nectar Desk, but if you'd like to have such things as call control or strong audio performance, it's better to choose a certified headset. We at Nectar Desk care a lot about our customers' comfort. And in order to make your Nectar Desk usage more comfortable, we have an integration with Jabra. Now it's possible to answer and hang up calls just by clicking on the button on the headsets, and the sound will be loud and crystal clear with Nectar Desk.
Wearing style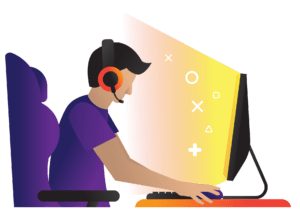 Choose the right headphone type for you. There typically are the wearing styles:
"over-ear", "on-ear", and "in-ear".
"Over-ear" headsets entirely cover your ears. They block out the most noise and provide better sound. But they can be tiresome to wear for a long time.

"On-ear" headsets are smaller than "over-ear". They can provide noise cancellation and are easy to equip.  As they sit on top of the ears sometimes pressure directly on your ears if you're using them for hours.
"In-ear" headsets often called 'earbuds' are the smallest of the three types and fit in the ear. They are more portable and convenient to use. Some of them also provide noise cancellation. But, usually, they have worse microphones.
All in all, you choose what headset is much more comfortable and convenient for you. Is it large "over-ear"' headsets or small "earbuds"? Wired or wireless? The choice is yours. We at Nectar Desk always care about the variety of possibilities to simplify your work.