Reach your customers in the most direct way, with Nectar Desk SMS Mobile App. It provides 2-way SMS messaging. The pricing for messages is the same as for your current pricing plan. The app is free with no advertising.
Let's find out how to start using the app.
You can find Nectar Desk SMS Mobile App for Android in your Google Play Market.



After installing it, please open it and you will see the loading page.

Then you need to fill in the Account name (only subdomain), and credentials (email and password).

When you log in, you will have two options: SMS Inbox and My SMS. In the SMS Inbox, there are new SMS that are not answered yet.



In the My SMS, there are open conversations. Also, you can start a new conversation by pressing a pencil button.



To start a new conversation, choose the number you'd like to send SMS from and enter the number you'd like to send SMS to.



In My SMS, you can check the opened conversations that are assigned to you. It's possible to answer or complete the chat.



In the left-side menu, you have two options. With the help of the 'Logout' button, you can log out from the profile.



Even when the app is closed, you will get notifications on your phone.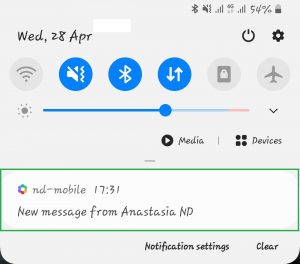 Easy-to-use and intuitive user interface will help you to reach customers. Stay connected with your customers and prospects when you'd like to.