Nectar Desk offers an automated text-messaging solution, which assists you to manage two-way business interactions with your customers. With the aid of our Messaging Campaigns, you can text hundreds of clients worldwide within a few minutes.
How to initiate the Messaging Campaign?
The Messaging Campaign is a form of marketing that allows you to interact with your customers via text. It's similar to an email campaign but is faster and easier to create with the help of the Nectar Desk solution.
The set-up procedure is really easy and quick. To start the campaign, follow the next steps:
Go to the Messaging section > Messaging Campaign 
Then click on Create Campaign > SMS Campaign.                                                     
Fill in the fields below: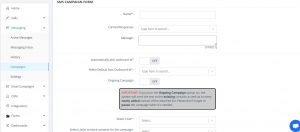 Messaging Campaign Form
Name your campaign and type the Message itself or choose the Canned Response. Select the Outbound SMS ID, keep in mind that the number you select should obviously be SMS enabled. If you turn on the Ongoing Campaign option, the system will send the text to every newly added to the list contact.
If you want to send text messages to your clients from the previously uploaded contact list, select the required list and schedule a campaign if needed.
Use Powerpack to avoid the spam detection issue when the recipients' carriers block the incoming texts.
Don't forget about Override Business Hours settings: select your time zone, days, and working hours so you could be sure the SMS won't be sent to your clients when they are outside of the office.
Once the Save button is pressed, your Messaging Campaign is ready to go:

You will be able to (1) Edit, (2) Start, (3) Delete, and create (4) SMS Campaign Report under the Action column:


Nectar Desk Messaging Campaign Service is perfect for updates informing, event invitations or cancellation notifying, polls & surveys, or simply any messages that must be quickly sent. Our software will interactively gather and process replies.
We also provide our clients with the Messaging History and Outbound SMS reports so you could make sure your text messages were successfully delivered to your customers. Pull a report to see all outbound messages you've sent for a selected date range with the possibility to check their status.
Have questions? Ask us at support@nectardesk.com and we'll be glad to respond 🙂