Nectar Desk + Kommo
Best Phone System and Call Center Software for Kommo
Nectar Desk is a reliable and up-to-date SaaS solution for handling inbound and outbound calls with a set of useful features for reporting and analytics. We deliver comprehensive call center software that can be set up in minutes and will be a great integration to your Kommo account.
The integration takes only a few clicks and provides you with an avalanche of new possibilities to improve your customer service and outcomes. Scroll down and learn more about how to take your call center to the next level together with Nectar Desk and Kommo integration.
Full contact center functionality inside Kommo.
Kommo (former amoCRM) is a multifunctional solution for customer relationship management that will help you to deliver high-quality service. Multi-channel communication lets you converse through messengers, emails, and calls from a single app. You can create your own chatbots with the code-free chatbot builder, and make sure your business is online 24/7, at any capacity. Integrate Kommo with Nectar Desk by using API and avoid manual data entry.
Thanks to the integration with Nectar Desk, the Kommo users boost their work productivity and perform more efficiently.
Synchronize Your Data Between Two Systems
Due to Nectar Desk integration with Kommo, you will be able to automatically log your calls into Kommo as a note in a few seconds. Then it allows to have access to call logs to see the call direction, result, contact phone number, your number in Nectar Desk account, the agent who was responsible for the call, time and date when the call was initiated, its duration, and call recording URL.
There is also an option to make calls to your customers worldwide directly from your amoCRM account. If you use these two modern and user-friendly platforms, you can significantly make your working performance much more efficient and effective.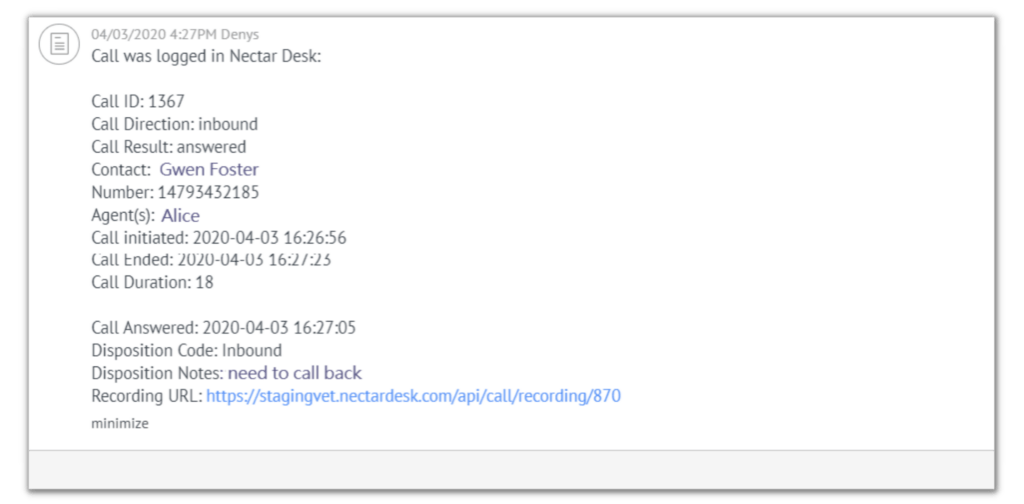 Get an Intuitive Interface with Handy Tools
Nectar Desk takes care of your convenience together with Kommo. Both platforms are extremely easy to use and can be integrated with a few clicks. You do not need to spend a lot of time on downloading numerous applications. Everything you need is previously created accounts in Nectar Desk and Kommo systems. It takes a few minutes to integrate your accounts with the help of API. Moreover, you can contact our friendly support team to get help at each stage of your way to make the most of two amazing platforms.
The platform allows to choose dispositions and leave call and SMS notes to have them being displayed in the log window. You can easily create a new contact in amoCRM directly from the Nectar Desk screen pop. There is also the other useful Nectar Desk functionality such as teams, tickets, many kinds of calling and automated campaigns, activities, and much more. It becomes possible to control your company's workflow with our analytics, reporting options, and various dashboards. 
Create Your CRM Base to Perform Better
Nectar Desk and Kommo integration will help you to build a strong relationship with your customers. You will easily transform your prospects into your loyal customers due to a great detailed database of your contacts. Both platforms provide you with an avalanche of options to deliver really impeccable customer service. You will definitely stay on top of your communication and get the loyalty of your clients.
Integrate Nectar Desk with Kommo Right Now
Nectar Desk tries hard to be the best software for its customers who are using Kommo and is proud to present to you our common integration!
Integration of Kommo and Nectar Desk will give users an opportunity to automatically log every call and SMS into the CRM as a note right after the call was initiated or the text message was sent. We log all call types – even if you've missed the call from your customer, the call log with appear under the Contact – and you'll have a chance to call him back immediately.
Ready to install?
Watch the video and find out how to integrate your Kommo with the Nectar Desk account.
Get this integration and 50+ features for just $50 per month!
Learn more about the Nectar Desk Pricing here.