Call Center Software in the Cloud
Keep client communication under single interface
Nectar Desk is one of the most affordable and complete SaaS solution for handling inbound and outbound calls with
reporting and analytics. We deliver a comprehensive call center software that can be setup in minutes from buying
a number to customizing your agents and more. No Contracts***. No Hidden Fees. No Hardware. 24/7 Phone and Live Chat Support.

Boost Your Sales Team with Incredible Capabilities
which Comply Most of Business Needs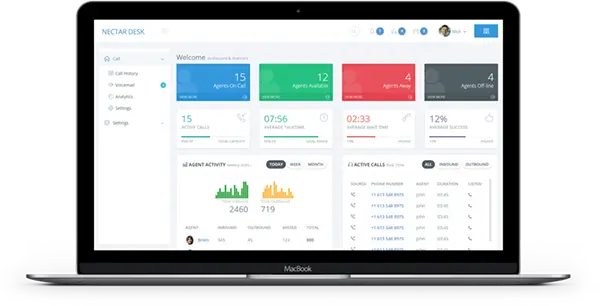 All You Expect from Call Center Software and Even More
Basic call center software functions are available in Nectar Desk as well as advanced features. Checkout full agent's performance metrics that include answering time, agent availability, call recording, listen live along with customized reporting and alerts.
Call Center Software where Market Leaders are Born & Nurtured

Bring All Your Interactions to One Place
With Nectar Desk, you get a chance to control all your omnichannel interactions on-the-fly. Our call center software allows to integrate SMS, ticketing, chat, email texts, and other communications in a whim.
Conquer Global Marketplace
Use our cloud-based ACD tools, auto dialers and IVR technologies to reach out to horizons you didn't imagine.
Take advantage of Nectar Desk VoIP services to call prospects from anywhere in the world with your caller ID localized to eliminate dropped calls

Monitor Your Call Center Representatives in Real-Time
You can now assess the performance of your agents, including the virtual reps in real-time. Get to monitor and analyze their interactions with leads and step up when they need assistance.

Build a Scalable Contact Center
Scaling up/down is effortless as you don't have to install cumbersome hardware systems. Adding or subtracting agents shouldn't be a nightmare anymore. Also, data storage and recovery is easier than ever with Nectar Desk.

Map Out Entire Customer Journey
Our cloud call center solutions are designed to help diverse businesses create a holistic image of your prospect enabling you to tailor services to them. Our call center software supports 20+ integrations including Salesforce to ensure that all team departments get essential metrics from customer's behavior across all platforms.

Push up Sales and Increase Company Profit
Nectar Desk Call Center Software facilitates business to handle, manage, and report on every client interaction from all communication channels and give pleasant and reliable support. So, they will trust your organization, never turn down but recommend to their friend, relatives and simply familiar people while you'll enjoy the growth of new customers.
Cloud Call Center Software is Worth to Try: Nectar Desk
We at Nectar Desk believe every client should try our solution
for themselves, encouraging our clients to trial our Cloud Call Center software to ensure it meets all their needs before they purchase.
We offer free onboarding support to every trial account. We invite you to give NectarDesk a chance to show you how our Cloud Call Center software can improve your customer service.
The Reason We Stuck UP High in the Industry – Nectar Desk Benefits
Simple, Smooth & Flexible
Want a system that can be used on the go? Then Nectar Desk already got you covered. From the intuitive dashboard to the use diversified call center software tools, everything is straightforward.
Your on-demand agents can operate smoothly from home as calls are routed to them when call volumes surge.
Tools such as auto-dialers and ACD automates call center operations enabling agents to concentrate on qualifying, converting and bringing leads to retention phase.
50+ Features & 20+ Integrations
We present feature-rich virtual call center software that's highly adaptable and compatible with various platforms.
Enhance your KPIs with real-time analytics, better workforce management and creation of production customer relationships with dozens of features at your disposal.
No complex configurations and junk. Set off your sail with a few clicks only.
Exceptional Versatility
Monitor, measure and generate reports to gauge KPI metrics in real time
Seamless integrations are enriching agents with valuable customers' insights to enhance proactive and personalized client support.
Thoughtfully designed to accommodate enterprises of all sizes across various industries.
Fastidious operations tailored to the client increases ROI and bolsters sales.